8point3 Energy Partners LP reports financial results for the quarter ended February 28, 2017.
Highlights
Summary numbers: Revenues of USD 9.90 million, Net Earnings of USD 0.86 million.
Gross margins narrowed from 17.04% to 9.21% compared to the same period last year, operating (EBITDA) margins now 59.42% from 59.14%.
Change in operating cash flow of 302.16% compared to same period last year is about the same as change in earnings, likely no significant movement in accruals or reserves.
Narrowing of operating (EBIT) margins contributed to decline in earnings, despite some positive contribution from one-time items.
The table below shows the preliminary results and recent trends for key metrics such as revenues and net income growth:
| | 2017-02-28 | 2016-11-30 | 2016-08-31 | 2016-05-31 | 2016-02-29 |
| --- | --- | --- | --- | --- | --- |
| Relevant Numbers (Quarterly) | | | | | |
| Revenues (mil) | 9.9 | 14.46 | 26.12 | 13.52 | 7.1 |
| Revenue Growth (%YOY) | 39.36 | 258.79 | 749.02 | 520.33 | 232.8 |
| Earnings (mil) | 0.86 | 4.18 | 7.59 | 10.02 | 5.31 |
| Earnings Growth (%YOY) | -83.78 | -76.39 | 635.04 | 6811.72 | 157.91 |
| Net Margin (%) | 8.7 | 28.89 | 29.07 | 74.14 | 74.74 |
| EPS | 0.03 | 0.16 | 0.38 | 0.5 | 0.27 |
| Return on Equity (%) | 0.39 | 2.02 | 3.94 | 5.5 | 3.07 |
| Return on Assets (%) | 0.23 | 1.32 | 2.55 | 3.64 | 2.08 |
Access our Ratings and Scores for 8point3 Energy Partners LP
Market Share Versus Profits
Compared to the same period last year, CAFD-US's change in revenue was close to the amount of its change in earnings. It remains to be seen how the rest of its peer group's results will turn out and if CAFD-US's performance is a sign of any major shift in the composition of market share in this sector. Also, for comparison purposes, revenues changed by -31.57% and earnings by -79.39% compared to the previous period.
Earnings Growth Analysis
The company's year-on-year earnings decline was driven by the drop in gross margins from 17.04% to 9.21%. This drop in earnings would have been worse were in not for operational cost control activities, which helped the operating margins (EBITDA margins) improve from 59.14% to 59.42%. For comparison purposes, gross margins were 41.42% and EBITDA margins were 72.94% in the previous period.
Gross Margin Trend
Companies sometimes sacrifice improvements in revenues and margins in order to extend friendlier terms to customers and vendors. Capital Cube probes for such activity by comparing the changes in gross margins with any changes in working capital. If the gross margins improved without a worsening of working capital, it is possible that the company's performance is a result of truly delivering in the marketplace and not simply an accounting prop-up using the balance sheet.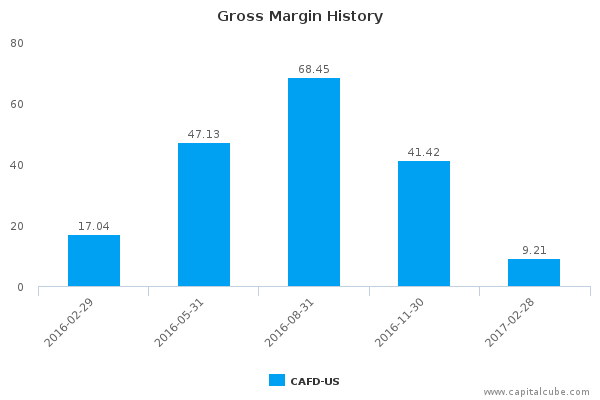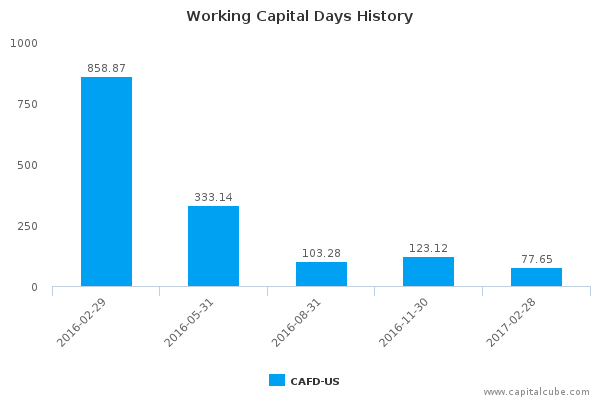 CAFD-US's decline in gross margins were offset by some improvements on the balance sheet. The management of working capital, for example, shows progress. The company's working capital days have fallen to 77.65 days from 858.87 days for the same period last year. This leads Capital Cube to conclude that the gross margin decline is not altogether bad.
Cash Versus Earnings – Sustainable Performance?
It is important to examine a company�s cash versus earnings numbers to gauge whether its performance is sustainable.
CAFD-US's year-on-year change in operating cash flow of 302.16% is around its change in earnings. This suggests that there are likely no significant movement in accruals or reserves for managing earnings this period.
Margins
The company's earnings fell, largely because of the narrowing in operating margins, which decreased from -6.00% to -10.00%. The decline in earnings probably would have been worse, were it not for some one-time items that improved pretax margins from -55.21% to -54.49%.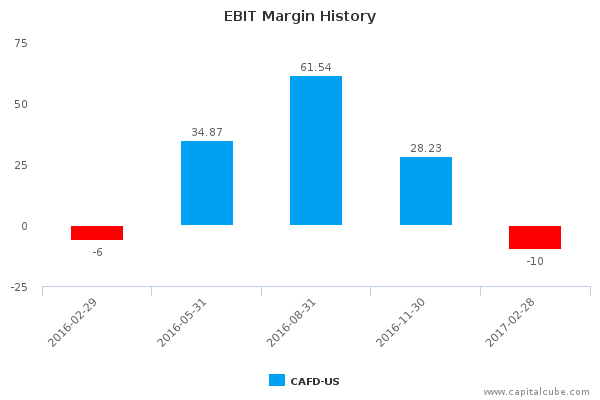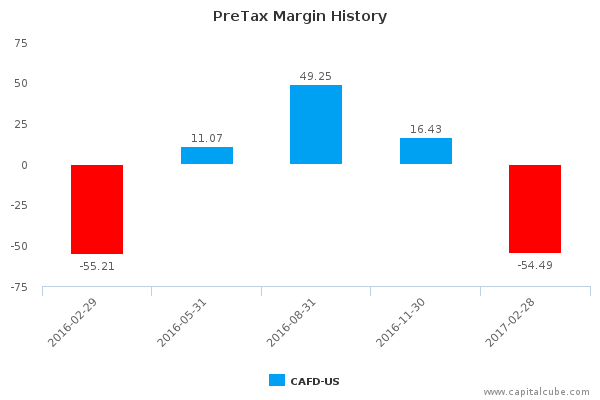 Access our Ratings and Scores for 8point3 Energy Partners LP
Company Profile
8point3 Energy Partners LP operates and acquires solar energy generation projects. It intend to acquire solar assets developed by sponsors that generate long-term contracted cash flows and serve utility, commercial and industrial, and residential customers in the United States and other select markets, primarily within the countries that comprise the organization for economic co-operation and development. The company projects include Maryland Solar, Lost Hills Blackwell, RPU, North Star Solar, Residential, Solar Gen 2 and Quinto. 8point3 Energy Partners was founded on March 3, 2015 and is headquartered in San Jose, CA.
CapitalCube does not own any shares in the stocks mentioned and focuses solely on providing unique fundamental research and analysis on approximately 50,000 stocks and ETFs globally. Try any of our analysis, screener or portfolio premium services free for 7 days. To get a quick preview of our services, check out our free quick summary analysis of CAFD-US.