AFC Ajax NV reports financial results for the half-year ended June 30, 2017.
Highlights
Summary numbers: Revenues of EUR 63.43 million, Net Earnings of EUR 20.31 million.
Gross margins widened from 14.03% to 25.87% compared to the same period last year, operating (EBITDA) margins now 11.79% from -0.53%.
Change in operating cash flow of 213525% compared to same period last year is about the same as change in earnings, likely no significant movement in accruals or reserves.
Earnings growth from operating margin improvements as well as one-time items.
The table below shows the preliminary results and recent trends for key metrics such as revenues and net income growth:
| | 2017-06-30 | 2016-12-31 | 2016-06-30 | 2015-12-31 | 2015-06-30 |
| --- | --- | --- | --- | --- | --- |
| Relevant Numbers (Semi-Annual) | | | | | |
| Revenues | 63.43 | 54.8 | 41.24 | 52.19 | 40.51 |
| Revenue Growth (YOY) | 53.81 | 5 | 1.79 | -19.59 | 6.74 |
| Earnings | 20.31 | 29.16 | -2.49 | 1.76 | -6.24 |
| Earnings Growth (YOY) | 915.13 | 1555.65 | 60.11 | -93.77 | 14.61 |
| Net Margin | 32.01 | 53.21 | -6.04 | 3.37 | -15.41 |
| EPS | 1.11 | 1.59 | N/A | N/A | N/A |
| Return on Equity | 13.65 | 23.55 | -2.26 | 1.59 | -5.51 |
| Return on Assets | 18.21 | 31.48 | -2.97 | 2.05 | -7.23 |
Access our Ratings and Scores for AFC Ajax NV
Market Share Versus Profits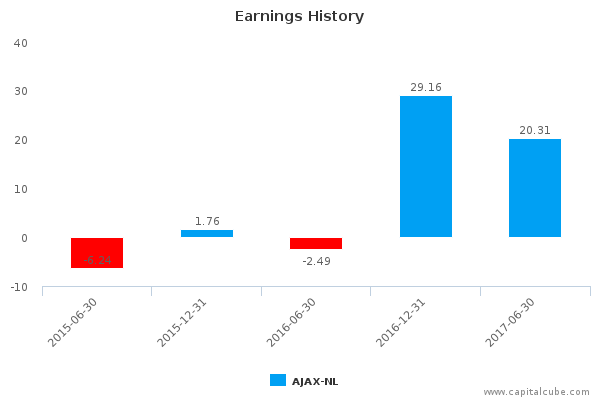 Compared to the same period last year, AJAX-NL's change in revenue was close to the amount of its change in earnings. It remains to be seen how the rest of its peer group's results will turn out and if AJAX-NL's performance is a sign of any major shift in the composition of market share in this sector. Also, for comparison purposes, revenues changed by 15.74% and earnings by -30.36% compared to the previous period.
Earnings Growth Analysis
The company's earnings growth was influenced by year-on-year improvement in gross margins from 14.03% to 25.87% as well as better cost controls. As a result, operating margins (EBITDA margins) rose from -0.53% to 11.79% compared to the same period last year. For comparison, gross margins were 23.43% and EBITDA margins were 7.44% in the last reporting period.
Gross Margin Trend
Companies sometimes sacrifice improvements in revenues and margins in order to extend friendlier terms to customers and vendors. Capital Cube probes for such activity by comparing the changes in gross margins with any changes in working capital. If the gross margins improved without a worsening of working capital, it is possible that the company's performance is a result of truly delivering in the marketplace and not simply an accounting prop-up using the balance sheet.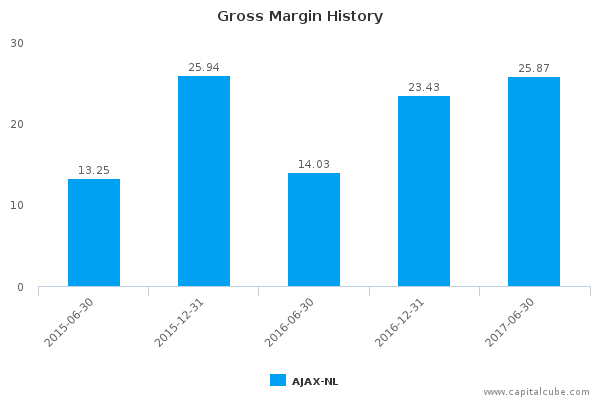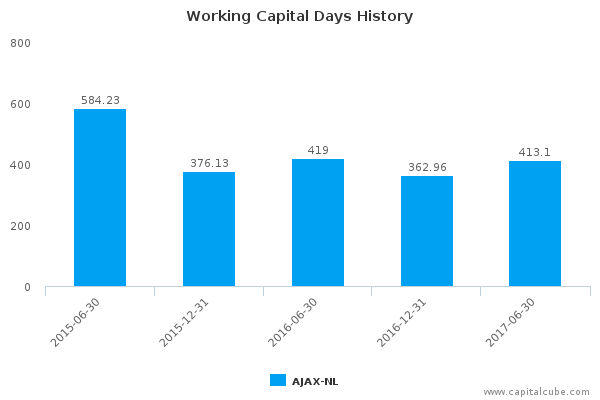 AJAX-NL's improvement in gross margin has been accompanied by an improvement in its balance sheet as well. This suggests that gross margin improvements are likely from operating decisions and not accounting gimmicks. Its working capital days are now 413.10 days compared to 419.00 days for the same period last year.
Cash Versus Earnings – Sustainable Performance?
It is important to examine a company�s cash versus earnings numbers to gauge whether its performance is sustainable.
AJAX-NL's year-on-year change in operating cash flow of 213525% is around its change in earnings. This suggests that there are likely no significant movement in accruals or reserves for managing earnings this period.
Margins
The company's earnings growth has also been influenced by the following factors: (1) Improvements in operating (EBIT) margins from -21.81% to -5.76% and (2) one-time items. The company's pretax margins are now 43.93% compared to -7.79% for the same period last year.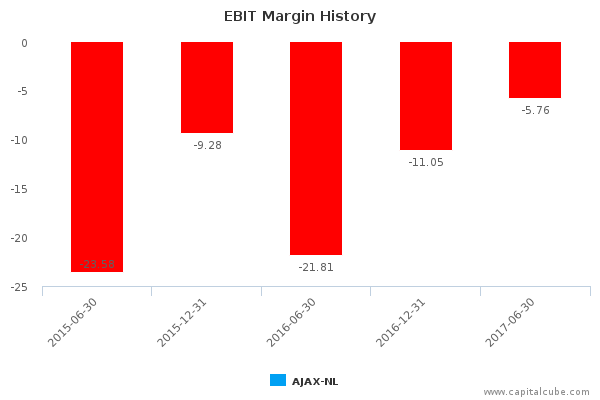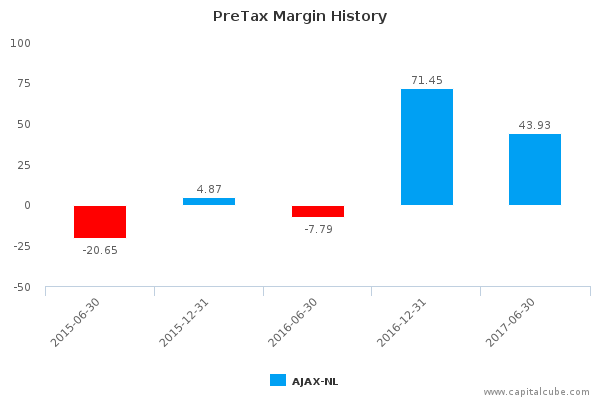 Access our Ratings and Scores for AFC Ajax NV
Company Profile
AFC Ajax NV engages in the management and operation of a football team. It also sells telecast rights, tickets, caps, apparel, and sports equipment. The company operates in the following segments: Football, Retail, Merchandising, and Other. The company was founded on May 1, 1998 and is headquartered in Amsterdam, the Netherlands.
CapitalCube does not own any shares in the stocks mentioned and focuses solely on providing unique fundamental research and analysis on approximately 50,000 stocks and ETFs globally. Try any of our analysis, screener or portfolio premium services free for 7 days. To get a quick preview of our services, check out our free quick summary analysis of AJAX-NL.
Disclaimer
The information presented in this report has been obtained from sources deemed to be reliable, but AnalytixInsight does not make any representation about the accuracy, completeness, or timeliness of this information. This report was produced by AnalytixInsight for informational purposes only and nothing contained herein should be construed as an offer to buy or sell or as a solicitation of an offer to buy or sell any security or derivative instrument. This report is current only as of the date that it was published and the opinions, estimates, ratings and other information may change without notice or publication. Past performance is no guarantee of future results. Prior to making an investment or other financial decision, please consult with your financial, legal and tax advisors. AnalytixInsight shall not be liable for any party's use of this report. AnalytixInsight is not a broker-dealer and does not buy, sell, maintain a position, or make a market in any security referred to herein. One of the principal tenets for us at AnalytixInsight is that the best person to handle your finances is you. By your use of our services or by reading any of our reports, you're agreeing that you bear responsibility for your own investment research and investment decisions. You also agree that AnalytixInsight, its directors, its employees, and its agents will not be liable for any investment decision made or action taken by you and others based on news, information, opinion, or any other material generated by us and/or published through our services. For a complete copy of our disclaimer, please visit our website www.analytixinsight.com.