Analogic Corp. reports financial results for the year ended July 31, 2016.
We analyze the earnings along side the following peers of Analogic Corp. – OSI Systems, Inc., L-3 Communications Holdings, Inc., Hologic, Inc., St. Jude Medical, Inc., Boston Scientific Corporation, Varian Medical Systems, Inc., Agilent Technologies, Inc., Arrhythmia Research Technology, Inc., Integer Holdings Corporation and Royal Philips NV Sponsored ADR (OSIS-US, LLL-US, HOLX-US, STJ-US, BSX-US, VAR-US, A-US, HRT-US, ITGR-US and PHG-US) that have also reported for this period.
Highlights
Gross margins widened from 42.47% to 43.21% compared to the same period last year, operating (EBITDA) margins now 13.67% from 11.95%.
Year-on-year change in operating cash flow of -14.78% is about the same as the change in earnings, likely no significant movement in accruals or reserves.
Earnings declined although operating margins improved from 7.64% to 9.07%.
The table below shows the preliminary results and recent trends for key metrics such as revenues and net income growth:
| | 2016 | 2015 | 2014 | 2013 | 2012 |
| --- | --- | --- | --- | --- | --- |
| Relevant Numbers (Annual) | | | | | |
| Revenues | 508.85 | 540.29 | 517.55 | 553.4 | 516.57 |
| Revenue Growth (YOY) | N/A | N/A | N/A | N/A | N/A |
| Earnings | 12.13 | 33.48 | 34.48 | 31.12 | 43.07 |
| Earnings Growth (YOY) | -63.78 | -2.9 | 10.79 | -27.74 | 159.15 |
| Net Margin | 2.38 | 6.2 | 6.66 | 5.62 | 8.34 |
| EPS | 0.96 | 2.66 | 2.72 | 2.48 | 3.42 |
| Return on Equity | 2.28 | 6.41 | 6.9 | 6.67 | 9.9 |
| Return on Assets | 1.92 | 5.39 | 5.74 | 5.43 | 7.98 |
Access our Ratings and Scores for Analogic Corp.
Earnings Growth Analysis
The company's year-on-year earnings decline did not come as a result of a contraction in gross margins or because of any cost control issues. Both gross margins and operating margins (EBITDA) margins actually improved over this time frame. Gross margins went from 42.47% to 43.21%, while operating margins improved from 11.95% to 13.67% over this period. For comparison, gross margins were 42.47% and EBITDA margins 11.95% in the immediate last period.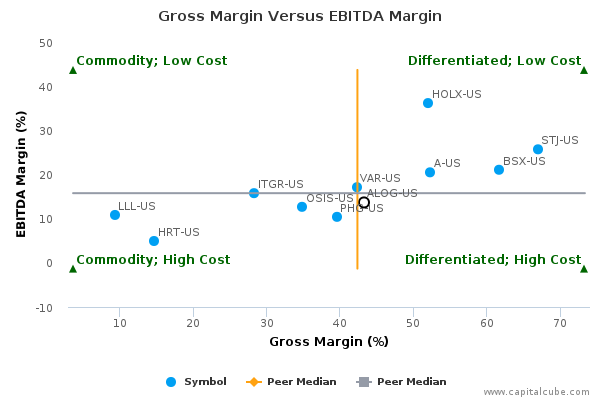 Quadrant label definitions. Hover to know more
Differentiated; Low Cost, Commodity; Low Cost, Commodity; High Cost, Differentiated; High Cost
Gross Margin Trend
Companies sometimes sacrifice improvements in revenues and margins in order to extend friendlier terms to customers and vendors. Capital Cube probes for such activity by comparing the changes in gross margins with any changes in working capital. If the gross margins improved without a worsening of working capital, it is possible that the company's performance is a result of truly delivering in the marketplace and not simply an accounting prop-up using the balance sheet.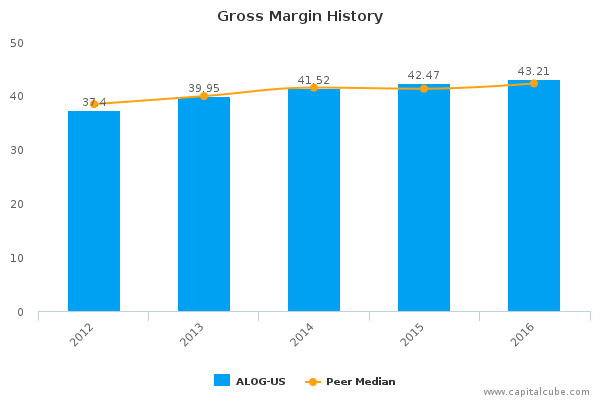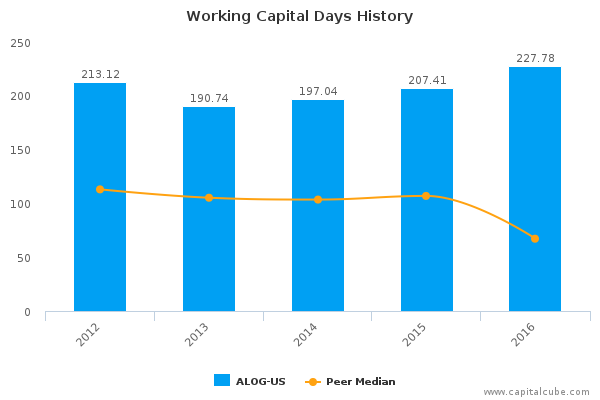 ALOG-US's gross margin improvement has not produced any big difference in its working capital. Working capital days are currently 227.78, compared to last year's level of 207.41 days. This leads Capital Cube to conclude that the improvements in gross margins are likely from operating decisions and not trade-offs with the balance sheet.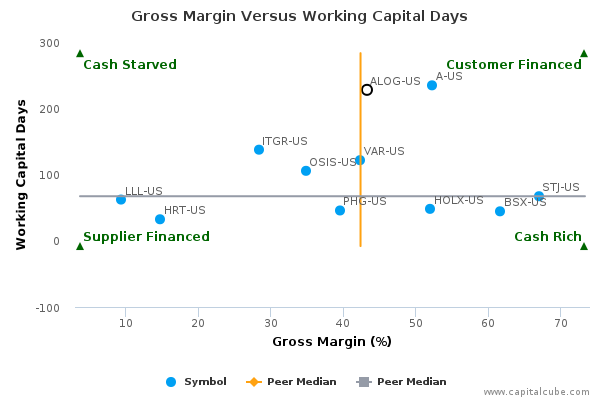 Quadrant label definitions. Hover to know more
Customer Financed, Cash Starved, Supplier Financed, Cash Rich
Cash Versus Earnings – Sustainable Performance?
ALOG-US's change in operating cash flow of -14.78% compared to the same period last year is about the same as its change in earnings this period. Additionally, this change in operating cash flow is about average among its peer group. This suggests that the company did not use accruals or reserves to manage earnings this period, and that, all else being equal, the earnings number is sustainable.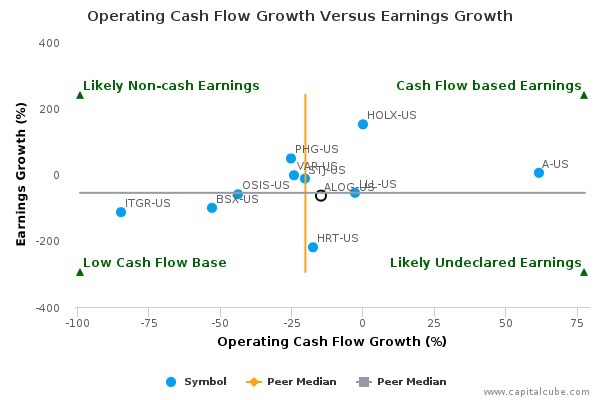 Quadrant label definitions. Hover to know more
Cash Flow based Earnings, Likely Non-cash Earnings, Low Cash Flow Base, Likely Undeclared Earnings
Margins
Despite an overall improvement in operating (EBIT) margins, the company's earnings fell. EBIT margins went from 7.64% to 9.07%. The decline in earnings appears to be largely because of one-time items. Pretax margins declined from 7.59% to 3.99%.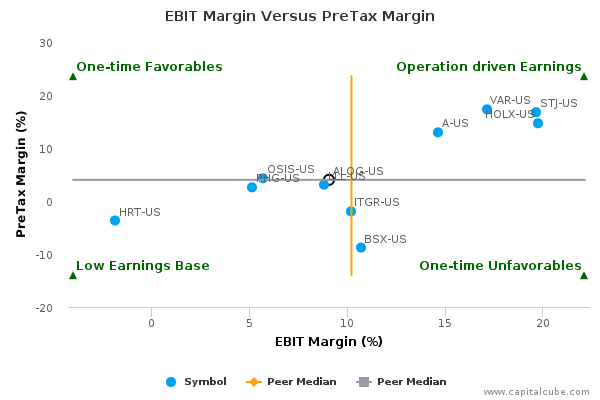 Quadrant label definitions. Hover to know more
Operation driven Earnings, One-time Favorables, Low Earnings Base, One-time Unfavorables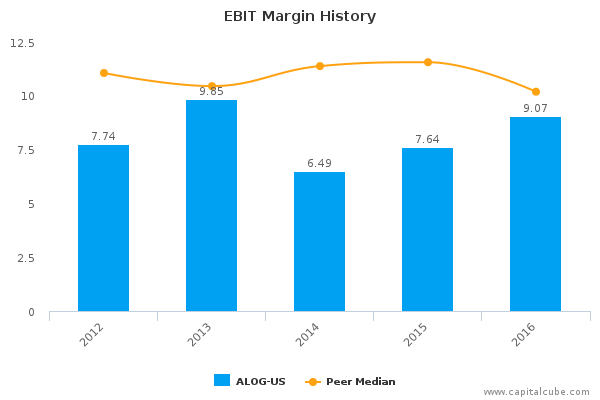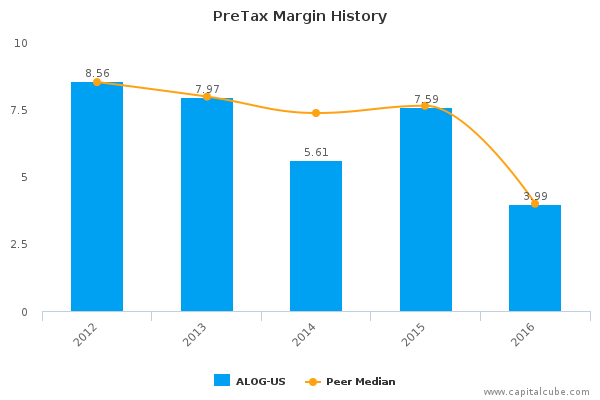 Access our Ratings and Scores for Analogic Corp.
Company Profile
Analogic Corp. provides healthcare and security technology solutions to advance the practice of medicine and save lives. It operates through three segments: Medical Imaging, Ultrasound and Security Technology. The Medical Imaging segment includes systems and subsystems for computed tomography and magnetic resonance imaging medical imaging equipment as well as state-of-the-art, selenium-based detectors for screening of breast cancer and other diagnostic applications in mammography. The Ultrasound segment includes ultrasound systems and transducers primarily in the urology, surgery, anesthesia, and point-of-care markets. The Security Technology segment includes advanced threat detecting computed tomography systems utilizing its expertise in advanced imaging technology, primarily used in checked baggage screening at airports worldwide. The company was founded by Bernard Marshall Gordon in November 1967 and is headquartered in Peabody, MA.
CapitalCube does not own any shares in the stocks mentioned and focuses solely on providing unique fundamental research and analysis on approximately 50,000 stocks and ETFs globally. Try any of our analysis, screener or portfolio premium services free for 7 days. To get a quick preview of our services, check out our free quick summary analysis of ALOG-US.