Last week we highlighted what we think will be a growing trend in 2014, giving investors a different take on how they should view their fixed income holdings. Today we reiterate the call to action; it's time to find top-tier dividend paying stocks that not only offer competitive yields, but more importantly the potential for massive dividend growth in coming years.
The stocks we look at today all offer that potential because they are still, in essence, growth stories – companies that are showing strong gains in operating margins and cash flows. Most have just initiated their dividends in the past few years, but that shouldn't be viewed as a negative. They are a new breed of blue chip dividend growers, paying out modest percentages of available cash flow, and committed to attracting long-term, income-seeking investors.
And given the risks in bonds this year, investors could do well to lock in some income while still participating in these growth stories, and continuing to participate in macroeconomic recovery.
2009 – Present: Excellent Execution and Smart Choices
All of the companies we mention today have one important thing in common: They all committed to creating and/or growing their dividend during the worst of times. They had the balance sheets to support it, and they proceeded to execute admirably through the recession by increasing EPS and operating cash flows. Now they have attracted a broader base of shareholders, and along the way shattered the antiquated notion that once a company starts paying a dividend, the bloom is off the rose, and it's no longer a "growth stock".
All the companies on this list fit the bill. They are best-in-class in their industries, and have the balance sheet strength and financial flexibility (via high margins and operating cash flow growth) to ensure their placement at the front of the pack. Just for illustrative purposes, here's a customized peer group of some of the stocks we're delving into today. As you can see, all of them are in the top tier of dividend payers: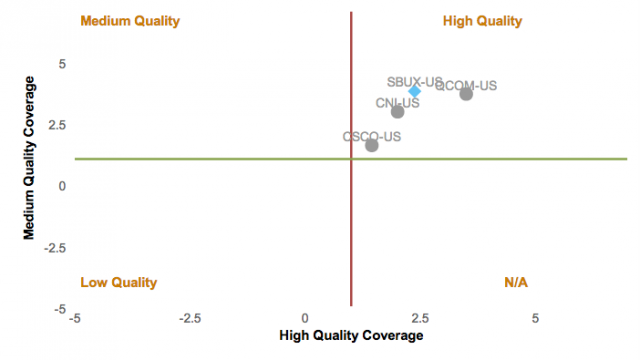 Given that the current dart-boarding of 2014 estimates for the U.S. economy are centered around 2.5% GDP growth and 3-5% corporate revenue growth, investors would do well to seek out companies that lead in market share and in margins.  These are the companies with the means and the will to do whatever is needed to create shareholder gains in the current climate.
Cisco Systems (NASDAQ: CSCO) – Growing Up Before Our Eyes
Once upon a time it was the tech darling stock, the company that was quite literally building the internet. Nobody expects this bellwether to report huge top-line gains anymore, but that doesn't mean it's still not a fantastic company with leading market share, strong operating margins (23%) and growth in operating cash flow (12% last year).
For years investors complained about the unseemly amounts of cash Cisco was storing on the balance sheet. At first the company wanted to have the flexibility to make acquisitions or ramp up capex, but as the stock enters middle age, it's finally come around to the idea of attracting the income-seeking shareholder. While only in place since 2011, the dividend has nearly tripled in that time, providing for a current yield of 3%, while the payout ratio is modest at 26%.
Management has reiterated publicly that it would like to return cash to shareholders at a target rate of 50% of free cash flow, between dividends and share buybacks.
Starbucks Corp (NASDAQ: SBUX) – High Growth + Dividend Kicker
Here we find another new dividend, this one instituted in 2010. It's a true testament to Starbucks' business model and cash flow metrics that they're able to commit to a growing dividend while still plowing money into capex to open new stores. And at the moment, that's still the best use of their cash; their new stores tend to be immediately accretive, as 70 million customers per week can attest to.
Management has stated publicly their intent to grow the dividend along with internal cash flows; they've even raised the top of the range to allow for a 45% payout ratio.  And thanks to strong operating cash flow growth, Starbucks has grown the dividend by 125% in just three years. The current yield is just 1.29%, but the dividend figures could grow at 20-25% CAGR for the next several years.
Qualcomm (NASDAQ: QCOM) – The Mobile Chip King
Qualcomm has its stamp all over wireless communications, through best-in-class intellectual property and processors for mobile devices. Their IP portfolio allows them to sport margins that trounce their competitors, while ensuring their leading market position into 4G technologies.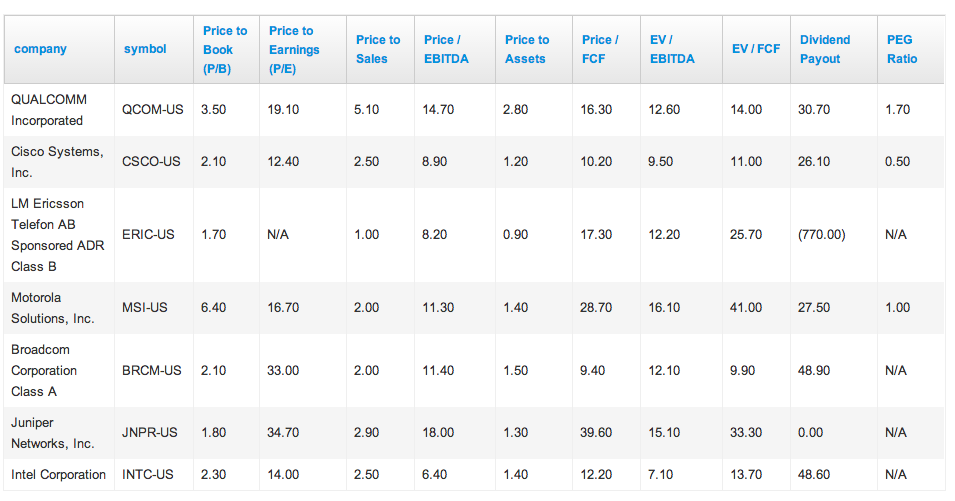 Currently yielding 1.87%, Qualcomm has paid out a dividend for over 10 years, and in just the past five the payout has increased by over 120%. Management has stated that it would like to return 75% of free cash flow to shareholders. With a current payout ratio of just over 30% and operating cash flow that has more than doubled since 2009, there is plenty of room to grow the dividend in coming years.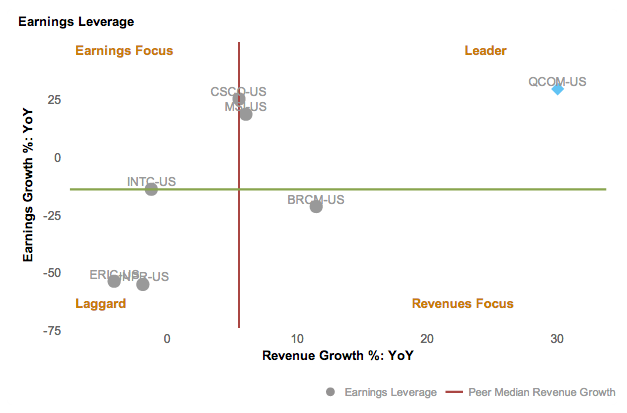 The Dividend Growth Story is in the Early Innings
These stocks have a lot going for them, and not just because their business prospects are good. They have the cash, the room, and the desire to grow their dividends. In addition, there's something to be said for making your shares appealing to both investors looking for growth and those seeking income. Supply and demand does play a valuable role in the capital appreciation of stocks. Increasing your shareholder base smooths out volatility, a key for long-term investors when maintaining their portfolios.

We'll be keeping a close eye on 4th quarter profits as they roll in, looking for areas of strength and weakness while getting a barometer reading on the macro take. This is the best first step towards building a growing group of stocks that can appeal to both growth and income-seeking investors.
The views and opinions expressed above are those of the author and do not necessarily reflect the views of  CapitalCube.com, AnalytixInsight, Inc., its affiliates, or its employees.

Disclaimer