There are few things that annoy me more than the growing ranks of fear-mongering pundits out there today. They did a great job of scaring countless investors out of the stock market. As a result investors missed out on what will probably be the most forceful rally (138% in less than 5 years) we'll see in our lifetimes.
Lately the mongering has turned to the world of fixed income, where to hear them tell it, the future and its bloated money supply will initiate a wave of inflation. And, soaring interest rates will wipe out legions of investors and send us whimpering back to the economic stone ages.
Newsflash – that's not going to happen. The Federal Reserve – and new Chair Janet Yellen – has committed itself to being an active market participant. The Fed is going to hold our hands the whole way through this market cycle; after all it got dressed up and took us to this dance to begin with.
But fixed income investors – especially those that utilize bond funds for their investing – should indeed be concerned about preserving their income needs in the coming years; rates are bound to move higher and as a result bond prices will suffer.
The Fed maintains that it doesn't expect to adjust short-term lending rates upward until 2015 but it could if it deems it necessary. The winding down of QE alone will exert upward pressure on interest rates. Remember, the market loves nothing more than to show you it's anticipated the future faster than you have.
Bonds: Modestly Rising Interest Rates Lead to Negative Real Returns
In 1994, for example, the Fed raised target short-term rates 5 times; in that year bond investors lost an average of 4.6%. And yes, that's including their income payments. Or consider our most recent example:  The 10 yr U.S. Treasury is currently yielding 2.85%. After dipping below 1.5% in the summer of 2012 – a level not seen in over 60 years – rates began to slowly creep upward to what we see today. Just that small move in rates of less than 150 basis points (1.5%) was enough to give most investors in core bond funds negative returns from the Fall of 2012 to today, including interest payments.
In fact, the 1994 example could prove tame compared to this next go-around, simply because the interest rates of today are so much lower. If longer-term rates were to move from say, 4% to 6%, part of the price decline in bonds could be made up for by the higher coupon payments. But the lion's share of today's holdings in bond funds have nominal rates of 2-5%, so there's less income coming in to defray price losses on individual bond issues.
Or as Bill Gross – the Warren Buffet of the bond world – has put it, a rapid rise in interest rates in the current climate would "burn bonds to a crisp".
Deep Breaths and Smart Solutions
The good news is that most forecasters (including this one) don't see a surge in rates anytime this calendar year. The forces pushing upward from the Fed backing out of QE will be somewhat negated by an economy that is only growing modestly. Also, while many gloomers out there have been predicting an inflationary surge to end all surges for nearly 5 years now, it has yet to take any shape. Not that it's shamed any of those pundits; at this point they must just think if they keep saying it year after year, it'll eventually be true.
In the meantime, we're seeing a lot of deflationary forces at work to balance out the large increases in the money supply since 2008. Globalization is a tectonic-level deflationary force, as are improvements across the value chain in sectors like technology and healthcare.
To help give investors some sensible options toward their fixed income allocations, we're using the Capital Cube advanced Screener to find some top-notch dividend stocks. We're going to filter out any companies whose dividends don't have cash backing them several times over as well as any company that isn't generating enough cash through its operating business to cover the dividend a couple times over. Any companies that haven't been openly committed to raising their dividend for a very, very long time are also out.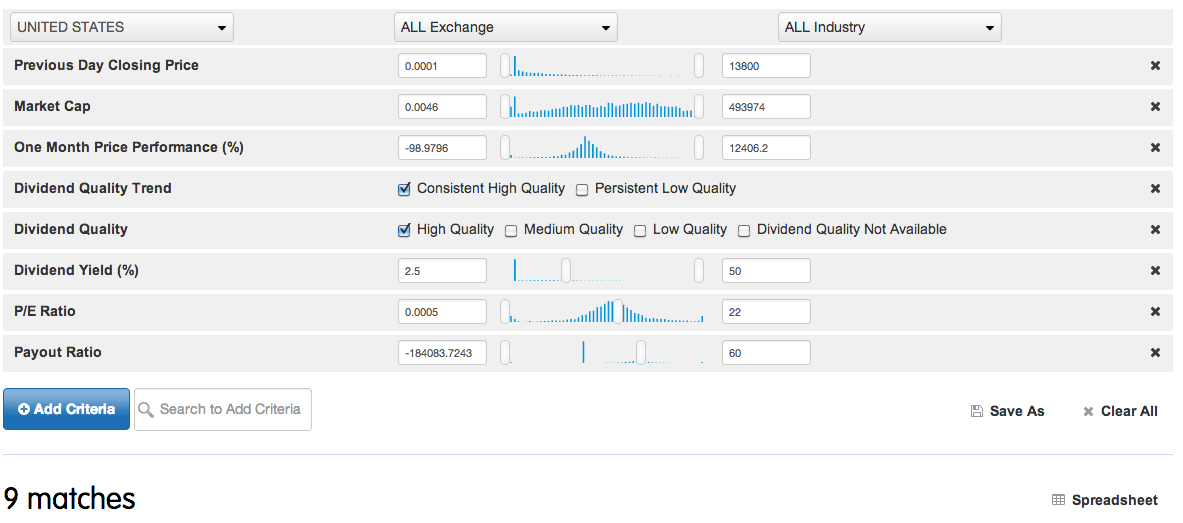 To that end, I've created a screen (see above) utilizing the following advanced metrics from Capital Cube:
High Quality Dividends – Dividends fully covered by operating and investing cash flow, net of debt repayments; Consistent High-Quality Dividends – at least five years' worth of high-quality dividends. In addition, I've modified the screen to also include P/Es below 22, payout ratios of less than 60%, and dividend yields comparable to that of 10-year Treasuries (2.5%). Run on all U.S.-traded equities, the screen yields a scant 9 results. Highlight below are 3 blue chips that have a long history of dividend increases and earnings growth, starting with the largest healthcare company in the U.S.
Johnson & Johnson (NYSE: JNJ) – A Model of Dividend Growth & Quality
This consumer giant is much more than just Band-Aids, Tylenol, and Listerine – this Dow component generates nearly $2 in pharmaceutical sales for every dollar earned in its consumer products segment. On the whole J&J generated nearly $4 billion in net income in Q3 of last year alone.
And while shares have a P/E slightly above the market average at 21x trailing, J&J has earned that premium, as can be seen by its growth metrics versus its peers, and an impressive 0.7 PEG ratio: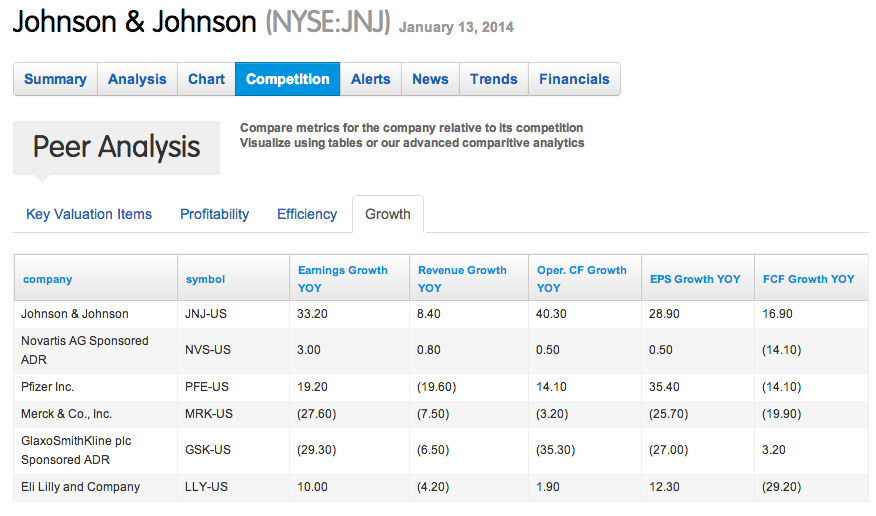 As to the dividend, J&J has been paying it out and growing it consistently for over 25 uninterrupted years. It yields as much as a benchmark Treasury, and provides excellent upside potential with its exposure to a growing base of healthcare customers around the world.
McDonald's Corp (NYSE: MCD) – Dividend Investors Lovin' It
I doubt I need to waste any space explaining the business of the world's largest restaurant operator. The company was one of the best-performing stocks in the S&P 500 over the last decade, thanks to a re-imagining of the menu towards healthier items, and a focus on higher-margin products like premium coffee.
While top-line growth has slowed in recent quarters, the dividend is more than twice covered by operating cash flow, and the company has unparalleled flexibility in its industry thanks to margins that absolutely destroy the competition:
McDonald's sports an above-benchmark yield of 3.38%, and the dividend has more than doubled since 2008. And there's immense safety in owning on the most valuable brands in the world.
Proctor & Gamble Company (NYSE: PG) – They're in Your Home Right Now
It's a safe parlor bet to say that you have at least one P&G product on a shelf or in a cupboard right now. The largest consumer products company on the planet does business in 180 countries, and owns 25 brands that generate over a billion dollars in global sales – each year. Owning premium brands gives the company great pricing power, as evidenced by gross and net margins that beat the peer average:

Procter & Gamble has an above-benchmark yield of 3%, and has been consistently growing the dividend for over 40 years. They have been aggressively growing overseas, allowing for 25% net income growth last year and more than justifying the company's reasonable 20.3x P/E.
Parting Thoughts
Remember, whether you're buying dividend-paying stocks or a bond, your yield is what you get the day you purchase it. But a standard bond will never raise its coupon payment midway through a holding period; these stocks will. Plus with these equity investments you get to participate in any price appreciation that comes from global growth and economic recovery.
Smart asset allocation is always the #1 priority of an investor, but the once-in-a-generation yields we're seeing today should have us re-thinking our fixed income strategies, especially with so many high-quality dividend payers to choose from.
The views and opinions expressed above are those of the author and do not necessarily reflect the views of  CapitalCube.com, AnalytixInsight, Inc., its affiliates, or its employees.