Brocade Communications Systems, Inc. reports financial results for the year ended October 31, 2016.
We analyze the earnings along side the following peers of Brocade Communications Systems, Inc. – NetApp, Inc., Quantum Corporation, HP Inc., Western Digital Corporation, Cisco Systems, Inc. and Juniper Networks, Inc. (NTAP-US, QTM-US, HPQ-US, WDC-US, CSCO-US and JNPR-US) that have also reported for this period.
Highlights
Gross margins narrowed from 67.40% to 63.94% compared to the same period last year, operating (EBITDA) margins now 19.72% from 25.85%.
Year-on-year change in operating cash flow of -8.39% is about the same as the change in earnings, likely no significant movement in accruals or reserves.
Narrowing of operating margins contributed to decline in earnings.
The table below shows the preliminary results and recent trends for key metrics such as revenues and net income growth:
| | 2016 | 2015 | 2014 | 2013 | 2012 |
| --- | --- | --- | --- | --- | --- |
| Relevant Numbers (Annual) | | | | | |
| Revenues | 2345.61 | 2263.46 | 2211.27 | 2222.86 | 2237.77 |
| Revenue Growth (YOY) | N/A | N/A | N/A | N/A | N/A |
| Earnings | 213.82 | 340.36 | 237.97 | 208.62 | 195.18 |
| Earnings Growth (YOY) | -37.18 | 43.03 | 14.07 | 6.89 | 285.66 |
| Net Margin | 9.12 | 15.04 | 10.76 | 9.39 | 8.72 |
| EPS | 0.51 | 0.79 | 0.53 | 0.45 | 0.41 |
| Return on Equity | 8.42 | 13.78 | 10.01 | 9.1 | 9.19 |
| Return on Assets | 4.76 | 8.76 | 6.47 | 5.79 | 5.53 |
Access our Ratings and Scores for Brocade Communications Systems, Inc.
Earnings Growth Analysis
The company's year-on-year decline in earnings was influenced by a weakening in gross margins from 67.40% to 63.94%, as well as issues with cost controls. As a result, operating margins (EBITDA margins) went from 25.85% to 19.72% in this time frame. For comparison, gross margins were 67.40% and EBITDA margins were 25.85% in the previous period.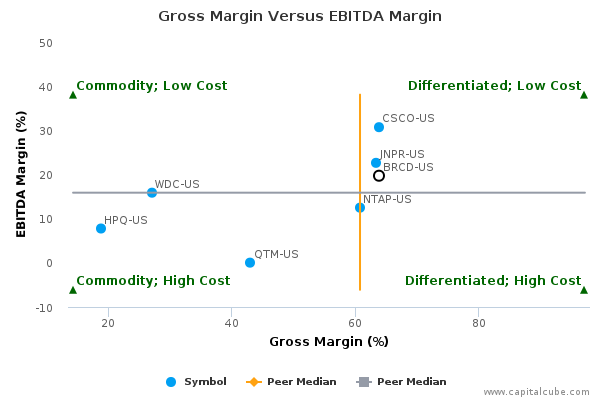 Quadrant label definitions. Hover to know more
Differentiated; Low Cost, Commodity; Low Cost, Commodity; High Cost, Differentiated; High Cost
Gross Margin Trend
Companies sometimes sacrifice improvements in revenues and margins in order to extend friendlier terms to customers and vendors. Capital Cube probes for such activity by comparing the changes in gross margins with any changes in working capital. If the gross margins improved without a worsening of working capital, it is possible that the company's performance is a result of truly delivering in the marketplace and not simply an accounting prop-up using the balance sheet.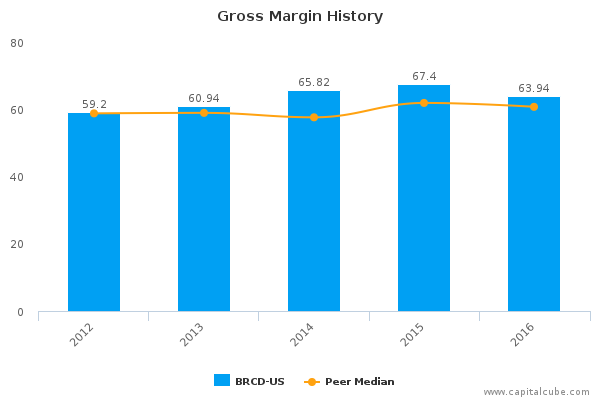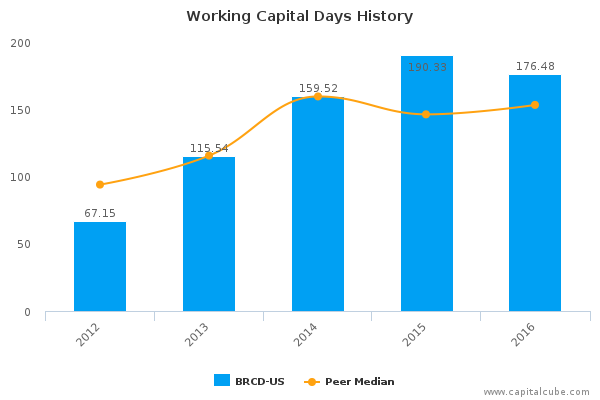 BRCD-US's decline in gross margins were offset by some improvements on the balance sheet. The management of working capital, for example, shows progress. The company's working capital days have fallen to 176.48 days from 190.33 days for the same period last year. This leads Capital Cube to conclude that the gross margin decline is not altogether bad.
Quadrant label definitions. Hover to know more
Customer Financed, Cash Starved, Supplier Financed, Cash Rich
Cash Versus Earnings – Sustainable Performance?
BRCD-US's change in operating cash flow of -8.39% compared to the same period last year is about the same as its change in earnings this period. Additionally, this change in operating cash flow is about average among its peer group. This suggests that the company did not use accruals or reserves to manage earnings this period, and that, all else being equal, the earnings number is sustainable.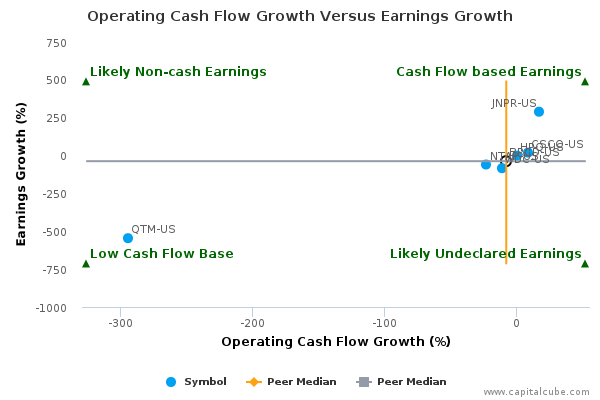 Quadrant label definitions. Hover to know more
Cash Flow based Earnings, Likely Non-cash Earnings, Low Cash Flow Base, Likely Undeclared Earnings
Margins
The company's decline in earnings has been influenced by the following factors: (1) Decline in operating margins (EBIT margins) from 22.10% to 14.42% and (2) one-time items that contributed to a decrease in pretax margins from 19.40% to 11.17%
Quadrant label definitions. Hover to know more
Operation driven Earnings, One-time Favorables, Low Earnings Base, One-time Unfavorables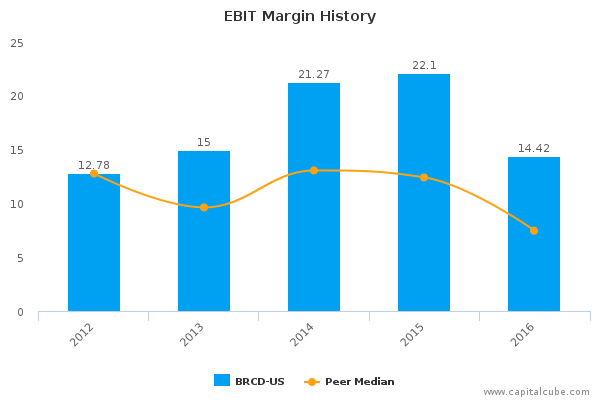 Access our Ratings and Scores for Brocade Communications Systems, Inc.
Company Profile
Brocade Communications Systems, Inc. engages in the provision of innovative network solutions. It supplies networking hardware and software, including Storage Area Networking solutions and Internet Protocol networking solutions for businesses and organizations worldwide. It operates through the following segments: Storage Area Networking Products, Internet Protocol Networking Products, and Global Services. The Storage Area Networking Products segments include infrastructure products and solutions that assist customers in the development and delivery of storage and server consolidation, disaster recovery and data security, and in meeting compliance issues regarding data management. These products are used to build storage area networks and are generally used in conjunction with servers and storage subsystems, Storage Area Networking interconnection components such as host bus adapters and server and storage management software applications and tools. The Internet Protocol Networking segments products include Layer 2 and Layer 3 Ethernet switches and routers that are designed to connect users over private and public networks, including local area, metro, and within & across global data centers. Global Services segment include break and fix maintenance, installation, consulting, network management and software maintenance, and post-contract customer support revenue. Brocade Communications Systems was founded by Paul R. Bonderson, Jr., Kumar Malavalli and Seth D. Nieman on August 24, 1995 and is headquartered in San Jose, CA.
CapitalCube does not own any shares in the stocks mentioned and focuses solely on providing unique fundamental research and analysis on approximately 50,000 stocks and ETFs globally. Try any of our analysis, screener or portfolio premium services free for 7 days. To get a quick preview of our services, check out our free quick summary analysis of BRCD-US.