Our analysis is based on comparing Colgate-Palmolive Co. with the following peers – Clorox Company, Procter & Gamble Company, Church & Dwight Co., Inc., Avon Products, Inc., Unilever PLC Sponsored ADR, Reckitt Benckiser Group plc, Kao Corp. Sponsored ADR, CCA Industries, Inc., Kimberly-Clark Corporation and Beiersdorf AG Unsponsored ADR (CLX-US, PG-US, CHD-US, AVP-US, UL-US, RBGPF-US, KCRPY-US, CAW-US, KMB-US and BDRFY-US).
Colgate-Palmolive Co.'s dividend yield is 2.67 percent and its dividend payout is 56.99 percent. This compares to a peer median dividend yield of 2.36 percent and a payout level of 60.58 percent. This relatively higher dividend yield and lower payout ratio makes the company a good candidate for dividend investors looking seeking good current dividend income within this peer group. In addition, the company's relatively good dividend quality score of 67 out of a possible score of 100, underscores its attractiveness for dividend investors.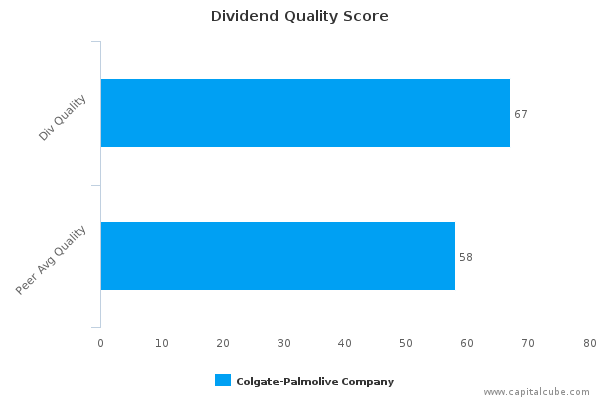 Dividend Quality Overview
Over the last twelve months (prior to December 31, 2016), CL-US paid a high quality dividend, which represents a yield of 2.11% at the current price.
Dividends paid during each of the last five years were consistently of high quality.
The ending cash balance is less than the last full year dividend payment and cannot be relied on to cushion any significant reduction of cash flows in the future.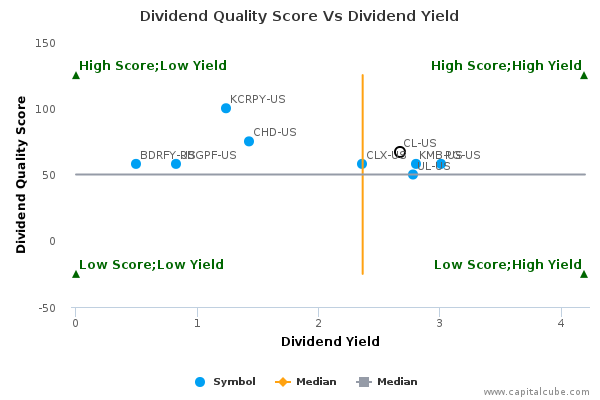 Quadrant label definitions. Hover to know more
High Score;High Yield, High Score;Low Yield, Low Score;Low Yield, Low Score;High Yield
Dividend Coverage
Over the last twelve months (prior to December 31, 2016), CL-US paid a high quality dividend.
The source of the company's cash to support the dividend paid over the last twelve months is operating cash flow (coverage of 2.08x), investing cash flow (coverage of -0.33x), issuance cash flow (coverage of -0.48x) and twelve-month prior cash (coverage of 0.71x), for a total dividend coverage of 1.92x.
CL-US's issuance cash flow includes outflows from net share buybacks (coverage of -0.59x). Thus, the total coverage including share buybacks is 2.51x, which reflects our assumption that the cash paid for share buybacks is discretionary and could instead be used to pay dividends.
These coverage ratio factors imply that the firm's dividends are wholly paid from operating and investing cash flows net of any debt repayments, which suggests a high dividend quality.
Dividend History
| Item | 2012-12-31 | 2013-12-31 | 2014-12-31 | 2015-12-31 | 2016-12-31 | Latest |
| --- | --- | --- | --- | --- | --- | --- |
| Dividend Yield (%) | 2.61 | 2.3 | 2.07 | 2.28 | 2.61 | 2.67 |
| Dividend Payout (%) | 47.38 | 55.88 | 60.17 | 98.68 | 56.99 | 56.99 |
A complete list of metrics and analysis is available on the company page.
Company Profile
Colgate-Palmolive Co. engages in the manufacturing and distribution of consumer products. It operates through two segments: Oral, Personal and Home Care; and Pet Nutrition. The Oral, Personal and Home Care segment provides oral products such as toothpaste and toothbrush, mouthwashes, as well as dental floss and pharmaceutical products for dentists and other oral health professionals; personal care such as liquid hand soap, shower gels, bar soaps, deodorants and antiperspirants, shampoos, and conditioners; and home care solutions that include household cleaners, dishwashing liquids, fabric softeners and other related products. The Pet Nutrition segment is specialized in pet nutrition products for dogs, and cats sold among pet supply retailers, and veterinarians. The company was founded by William Colgate in 1806 and is headquartered in New York, NY.
Disclaimer
The information presented in this report has been obtained from sources deemed to be reliable, but AnalytixInsight does not make any representation about the accuracy, completeness, or timeliness of this information. This report was produced by AnalytixInsight for informational purposes only and nothing contained herein should be construed as an offer to buy or sell or as a solicitation of an offer to buy or sell any security or derivative instrument. This report is current only as of the date that it was published and the opinions, estimates, ratings and other information may change without notice or publication. Past performance is no guarantee of future results. Prior to making an investment or other financial decision, please consult with your financial, legal and tax advisors. AnalytixInsight shall not be liable for any party's use of this report. AnalytixInsight is not a broker-dealer and does not buy, sell, maintain a position, or make a market in any security referred to herein. One of the principal tenets for us at AnalytixInsight is that the best person to handle your finances is you. By your use of our services or by reading any our reports, you're agreeing that you bear responsibility for your own investment research and investment decisions. You also agree that AnalytixInsight, its directors, its employees, and its agents will not be liable for any investment decision made or action taken by you and others based on news, information, opinion, or any other material generated by us and/or published through our services. For a complete copy of our disclaimer, please visit our website www.analytixinsight.com.