Our analysis is based on comparing Foot Locker, Inc. with the following peers – Genesco Inc., Finish Line, Inc. Class A, DSW Inc. Class A, Shoe Carnival, Inc., NIKE, Inc. Class B, Caleres, Inc. and Belle International Holdings Limited Unsponsored ADR (GCO-US, FINL-US, DSW-US, SCVL-US, NKE-US, CAL-US and BELLY-US).
Foot Locker, Inc.'s dividend yield is 1.44 percent and its dividend payout is 22.40 percent. This compares to a peer average dividend yield of 1.44 percent and a payout level of 20.03 percent. This combination of a relatively lower dividend yield and a higher payout ratio suggest that the dividend payout might not be sustainable. In addition, the low dividend quality score of NA out of a possible score of 100, points to unsustainability as well.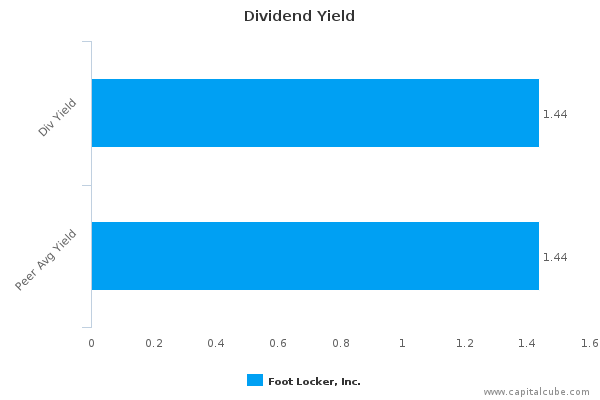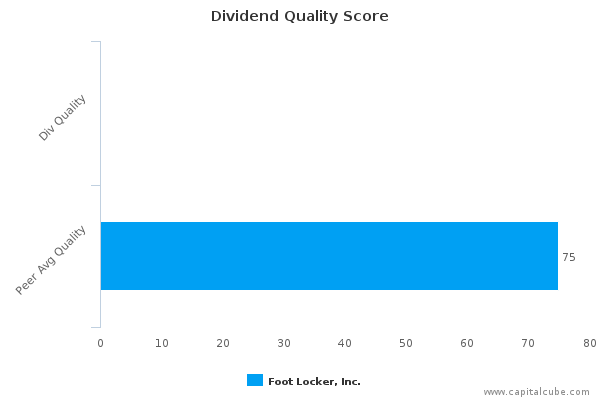 Dividend Quality Overview
While FL-US paid a cash dividend to the common stock over the last twelve months, the filed data currently available is not sufficient to analyze the quality of the dividend.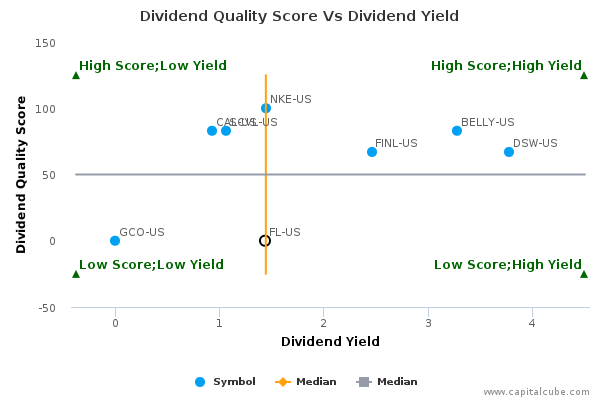 Quadrant label definitions. Hover to know more
High Score;High Yield, High Score;Low Yield, Low Score;Low Yield, Low Score;High Yield
Dividend Coverage
Dividend History
| Item | 2013-01-31 | 2014-01-31 | 2015-01-31 | 2016-01-31 | 2017-01-31 | Latest |
| --- | --- | --- | --- | --- | --- | --- |
| Dividend Yield (%) | 2.1 | 2.1 | 1.69 | 1.5 | N/A | 1.44 |
| Dividend Payout (%) | 27.91 | 28.07 | 24.72 | 26.04 | 22.4 | 22.4 |
A complete list of metrics and analysis is available on the company page.
Company Profile
Foot Locker, Inc. engages in the global retail of athletically inspired shoes and apparel. It operates through the following segments: Athletic Stores and Direct-to-Customers. The Athletic Stores segment operates athletic footwear and apparel retailers in the world, with brands that include Foot Locker, Lady Foot Locker, SIX:02, Kids Foot Locker, Champs Sports, Footaction, Runners Point and Sidestep. The Direct-to-Customers segment includes Footlocker.com, Inc. and other affiliates, including Eastbay, Inc., and company's international ecommerce businesses, which sell to customers through their Internet and mobile sites and catalogs. The company was founded in 1989 and is headquartered in New York, NY.
Disclaimer
The information presented in this report has been obtained from sources deemed to be reliable, but AnalytixInsight does not make any representation about the accuracy, completeness, or timeliness of this information. This report was produced by AnalytixInsight for informational purposes only and nothing contained herein should be construed as an offer to buy or sell or as a solicitation of an offer to buy or sell any security or derivative instrument. This report is current only as of the date that it was published and the opinions, estimates, ratings and other information may change without notice or publication. Past performance is no guarantee of future results. Prior to making an investment or other financial decision, please consult with your financial, legal and tax advisors. AnalytixInsight shall not be liable for any party's use of this report. AnalytixInsight is not a broker-dealer and does not buy, sell, maintain a position, or make a market in any security referred to herein. One of the principal tenets for us at AnalytixInsight is that the best person to handle your finances is you. By your use of our services or by reading any our reports, you're agreeing that you bear responsibility for your own investment research and investment decisions. You also agree that AnalytixInsight, its directors, its employees, and its agents will not be liable for any investment decision made or action taken by you and others based on news, information, opinion, or any other material generated by us and/or published through our services. For a complete copy of our disclaimer, please visit our website www.analytixinsight.com.