Mirati Therapeutics, Inc. reports financial results for the quarter ended June 30, 2016.
Analysis
Summary numbers: Revenues of USD 0 million, Net Earnings of USD -22.06 million.
The company did not record any revenues for the last twelve months making the comparison of net margin versus asset turnover meaningless.
MRTX-US's earnings and EBITDA are both negative which suggest that P/E or Price/EBITDA are not meaningful to make this analysis between operating advantage (ROE) and growth expectations (as suggested by P/E or P/EBITDA).
Cash and Cash equivalents were up this period to 91.31 million compared to 58.88 million in the same period last year.
We consider the company to have a Quick & Able profile as it currently does not have any debt. In comparison, the median level of debt as percent of enterprise value for its peer group is currently 0.85%.
Of the 6 chosen peers for the company, only 3 of the stocks have an outstanding debt balance. Companies with no debt include GNBT-US, HBP-CA and QLT-CA.
Net income of -22.06 million this period compared to a net income of -21.91 million last period. This is a growth of -0.67% over the previous period. In comparison, the peer group grew at -0.67%
Access our Ratings and Scores for Mirati Therapeutics, Inc.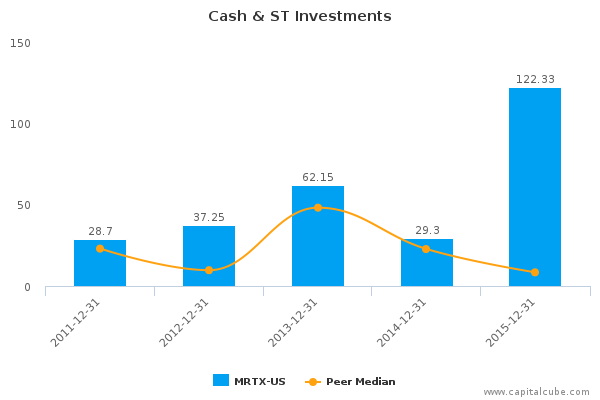 Access our Ratings and Scores for Mirati Therapeutics, Inc.
Company Profile
Mirati Therapeutics, Inc. is a clinical-stage biopharmaceutical company, which focuses on developing a pipeline of targeted oncology products. It also focuses on its development programs on drugs intended to treat specific subsets of cancer patients with unmet needs. Its pipeline consists of product candidates, namely MGCD265, MGCD516 and mocetinostat. The company was founded on December 13, 1995 and is headquartered in San Diego, CA.
CapitalCube does not own any shares in the stocks mentioned and focuses solely on providing unique fundamental research and analysis on approximately 50,000 stocks and ETFs globally. Try any of our analysis, screener or portfolio premium services free for 7 days. To get a quick preview of our services, check out our free quick summary analysis of MRTX-US.