Capitalcube gives Mitel Networks Corp. a score of 38.
Our analysis is based on comparing Mitel Networks Corp. with the following peers – ShoreTel, Inc., Microsoft Corporation, Cisco Systems, Inc. and Inventergy Global Inc (SHOR-US, MSFT-US, CSCO-US and INVT-US).
Investment Outlook
Mitel Networks Corp. has a fundamental score of 38 and has a relative valuation of UNDERVALUED.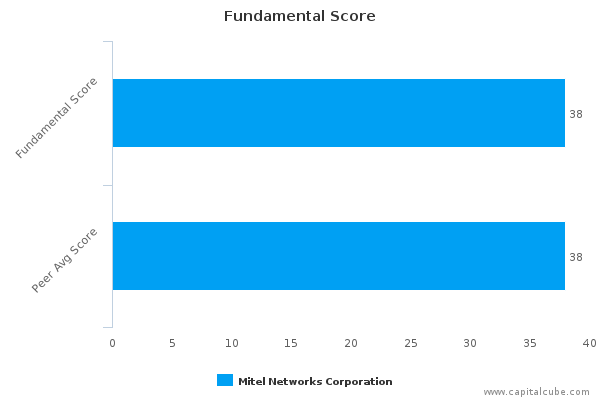 Access our research and ratings on Mitel Networks Corp.
Company Overview
Compared to peers, relative underperformance last month is down from a median performance last year.
Mitel Networks Corporation trades at a lower Price/Book multiple (1.44) than its peer median (2.44).
MITL-US's EBITDA-based price multiple implies slower growth than its peers. The market also seems to expect the company's currently median rates of EBITDA-based return to decline.
MITL-US's median net profit margins and relatively high asset efficiency give it some operating leverage.
Changes in annual revenues (relative to peers) are better than the change in its earnings (relative to peers), implying the company is focused more on revenues.
MITL-US's return on assets currently and over the past five years is around the peer median and suggest that it does not have any particular operational advantages versus peers.
The company's relatively low gross margin and median pre-tax margin suggest operations may be constrained on pricing versus peers.
While MITL-US's revenue growth in recent years has been above the peer median, the stock's Price/EBITDA ratio is less than the peer median suggesting that the company's earnings may be peaking and the market expects a decline in its growth expectations.
The company is likely overinvesting in a business with only median returns.
MITL-US seems too levered to raise additional debt.
Access our research and ratings on Mitel Networks Corp.
Leverage & Liquidity
MITL-US would seem to have a hard time raising additional debt.
With debt at a relatively high 41.65% of its enterprise value compared to an overall benchmark of 25% (Note: The peer median is currently 29.60%), and relatively tight interest coverage level of 1.20x, MITL-US would have a hard time raising much additional debt. The company has a Constrained profile in terms of its ability to take on further debt.
Of the 4 chosen peers for the company, only 3 of the stocks have an outstanding debt balance. Companies with no debt include SHOR-US.
MITL-US has maintained its Limited Flexibility profile from the recent year-end.
MITL-US's interest coverage is downward trending and is below (but within one standard deviation of) its five-year average interest coverage of 2.04x.
Compared to 2015, interest coverage has remained relatively stable for both the company (1.20x) and the peer median (1.20x).
MITL-US's debt-EV is less than (but within one standard deviation of) its five-year average debt-EV of 45.64%.
While its debt-EV decreased to 41.65% from 43.56% (in 2015), its peer median increased during this period to 29.60% from 24.60%.
Relative to peers, debt-EV fell 6.91 percentage points.
Access the detailed analysis for Mitel Networks Corp.
Key Liquidity Items
| Company | Debt/Enterprise Value (%) | Current Ratio | Interest Coverage (x) | Cash Flow To Total Debt (%) |
| --- | --- | --- | --- | --- |
| ShoreTel, Inc. | 0 | 1.48 | -19.73 | 999 |
| Microsoft Corporation | 19.56 | 2.69 | 14.18 | 56.07 |
| Cisco Systems, Inc. | 29.6 | 3.58 | 18.35 | 43.1 |
| Inventergy Global Inc | 49.33 | 0.07 | -1.96 | -54.26 |
| Mitel Networks Corporation | 41.65 | 1.46 | 1.2 | 17.74 |
| Peer Median | 29.6 | 1.48 | 1.2 | 43.1 |
| Best In Class | 19.56 | 3.58 | 18.35 | 999 |
Looking for more metrics and analysis for Mitel Networks Corp.?
Company Profile
Mitel Networks Corp. is a provider of business communications and collaboration software, services, and solutions. It operates through the following segments: Enterprise, Cloud, and Mobile. The Enterprise segment includes selling and supporting business communications products and services. The Cloud segment offers sells and supports products that are deployed in a cloud environment. The Mobile segment involves in selling and supporting software-based telecommunications networking solutions. The company was founded by Terence Hedley Matthews in 1972 and is headquartered in Ottawa, Canada.
Disclaimer
The information presented in this report has been obtained from sources deemed to be reliable, but AnalytixInsight does not make any representation about the accuracy, completeness, or timeliness of this information. This report was produced by AnalytixInsight for informational purposes only and nothing contained herein should be construed as an offer to buy or sell or as a solicitation of an offer to buy or sell any security or derivative instrument. This report is current only as of the date that it was published and the opinions, estimates, ratings and other information may change without notice or publication. Past performance is no guarantee of future results. Prior to making an investment or other financial decision, please consult with your financial, legal and tax advisors. AnalytixInsight shall not be liable for any party's use of this report. AnalytixInsight is not a broker-dealer and does not buy, sell, maintain a position, or make a market in any security referred to herein. One of the principal tenets for us at AnalytixInsight is that the best person to handle your finances is you. By your use of our services or by reading any our reports, you're agreeing that you bear responsibility for your own investment research and investment decisions. You also agree that AnalytixInsight, its directors, its employees, and its agents will not be liable for any investment decision made or action taken by you and others based on news, information, opinion, or any other material generated by us and/or published through our services. For a complete copy of our disclaimer, please visit our website www.analytixinsight.com.