Multi-Color Corp. reports financial results for the quarter ended June 30, 2016.
We analyze the earnings along side the following peers of Multi-Color Corp. – R.R. Donnelley & Sons Company, Cimpress N.V. and Cenveo, Inc. (RRD-US, CMPR-US and CVO-US) that have also reported for this period.
Highlights
Summary numbers: Revenues of USD 236.49 million, Net Earnings of USD 15.81 million.
Gross margins widened from 21.49% to 22.03% compared to the same period last year, operating (EBITDA) margins now 17.54% from 18.02%.
Year-on-year change in operating cash flow of -21.47% is about the same as the change in earnings, likely no significant movement in accruals or reserves.
Earnings growth due to contribution of one-time items.
The table below shows the preliminary results and recent trends for key metrics such as revenues and net income growth:
| | 2015-06-30 | 2015-09-30 | 2015-12-31 | 2016-03-31 | 2016-06-30 |
| --- | --- | --- | --- | --- | --- |
| Relevant Numbers (Quarterly) | | | | | |
| Revenues (mil) | 217.92 | 219.78 | 206.03 | 227.09 | 236.49 |
| Revenue Growth (%YOY) | 7.28 | 3.17 | 8.94 | 10.53 | 8.52 |
| Earnings (mil) | 13.25 | 16.57 | 9.63 | 8.29 | 15.81 |
| Earnings Growth (%YOY) | -0.35 | 47.13 | 0.89 | -28.63 | 19.25 |
| Net Margin (%) | 6.08 | 7.54 | 4.67 | 3.65 | 6.68 |
| EPS | 0.79 | 0.98 | 0.57 | 0.49 | 0.93 |
| Return on Equity (%) | 17.6 | 21.33 | 12.3 | 10.04 | 18.35 |
| Return on Assets (%) | 5.44 | 6.44 | 3.72 | 3.14 | 5.93 |
Access our Ratings and Scores for Multi-Color Corp.
Market Share Versus Profits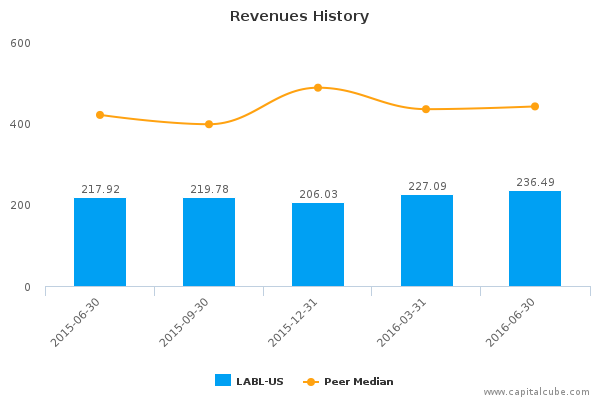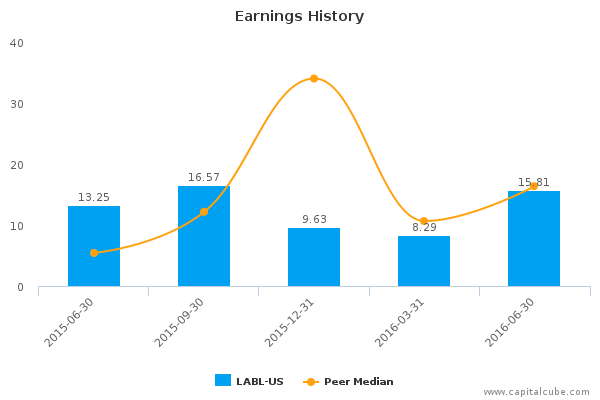 LABL-US's change in revenue this period compared to the same period last year of 8.52% is almost the same as its change in earnings, and is about average among the announced results thus far in its peer group, suggesting that LABL-US is holding onto its market share. Also, for comparison purposes, revenues changed by 4.14% and earnings by 90.72% compared to the immediate last period.
Earnings Growth Analysis
The company's earnings growth has been influenced by the year-on-year improvement in gross margins from 21.49% to 22.03%. However the company's overhead costs have prevented it from fully capitalizing on these gross margin improvements. In fact, the company's operating margins (EBITDA margins) showed no improvement over the same period last year.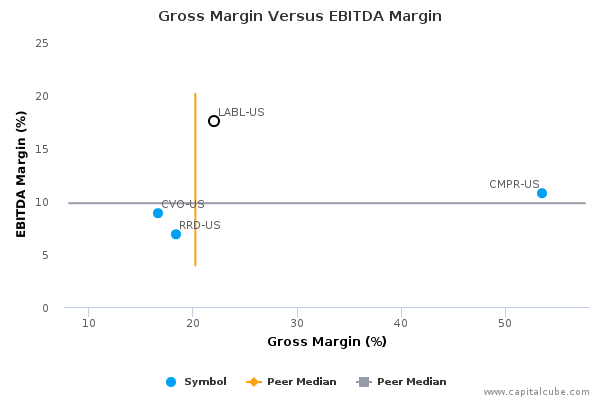 Gross Margin Trend
Companies sometimes sacrifice improvements in revenues and margins in order to extend friendlier terms to customers and vendors. Capital Cube probes for such activity by comparing the changes in gross margins with any changes in working capital. If the gross margins improved without a worsening of working capital, it is possible that the company's performance is a result of truly delivering in the marketplace and not simply an accounting prop-up using the balance sheet.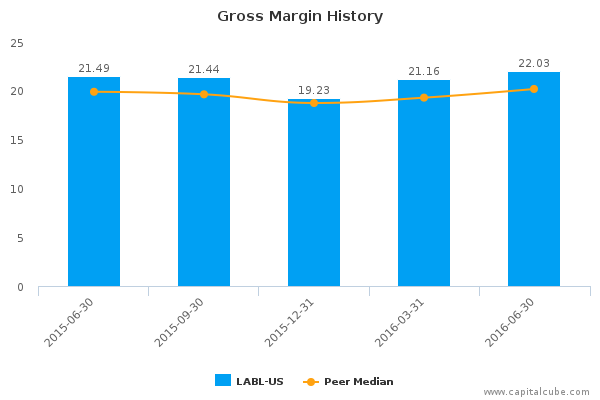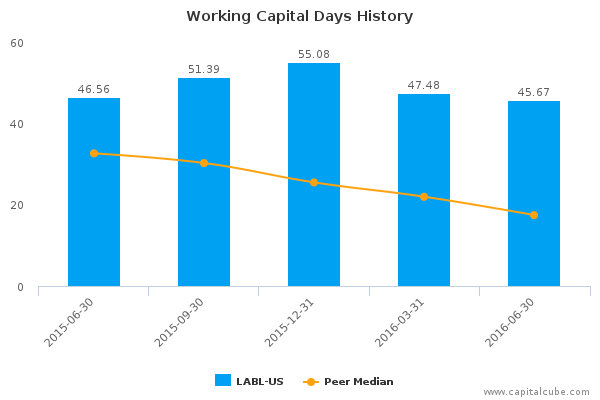 LABL-US's improvement in gross margin has been accompanied by an improvement in its balance sheet as well. This suggests that gross margin improvements are likely from operating decisions and not accounting gimmicks. Its working capital days have declined to 45.67 days from 46.56 days for the same period last year.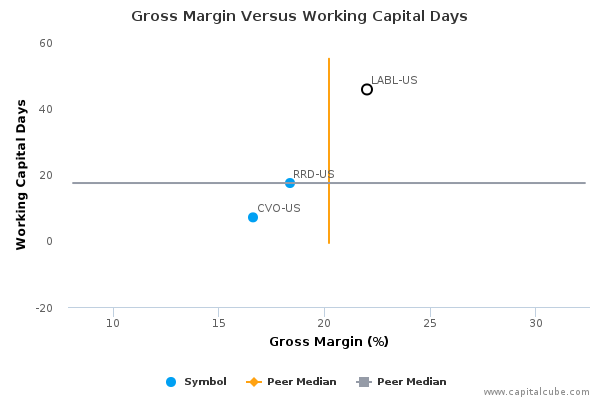 Cash Versus Earnings – Sustainable Performance?
LABL-US's change in operating cash flow of -21.47% compared to the same period last year is about the same as its change in earnings this period. Additionally, this change in operating cash flow is about average among its peer group. This suggests that the company did not use accruals or reserves to manage earnings this period, and that, all else being equal, the earnings number is sustainable.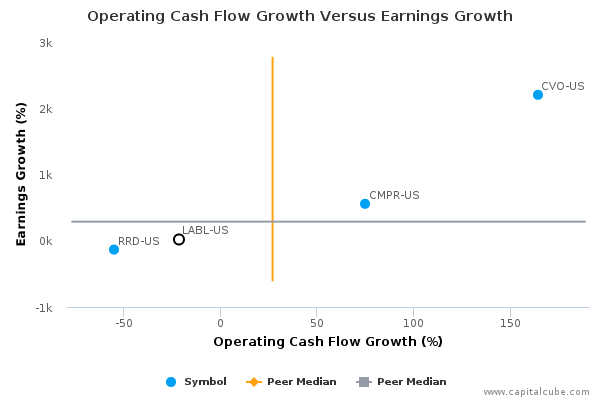 Margins
The company's operating (EBIT) margins contracted from 13.29% to 12.52%. In spite of this, the company's earnings rose. This was influenced primarily by one-time items, which improved pretax margins from 9.09% to 9.77%.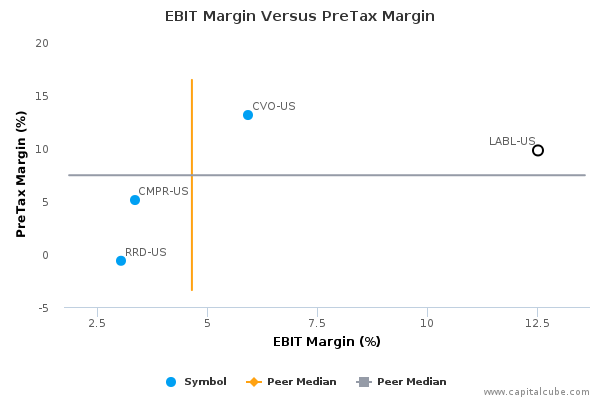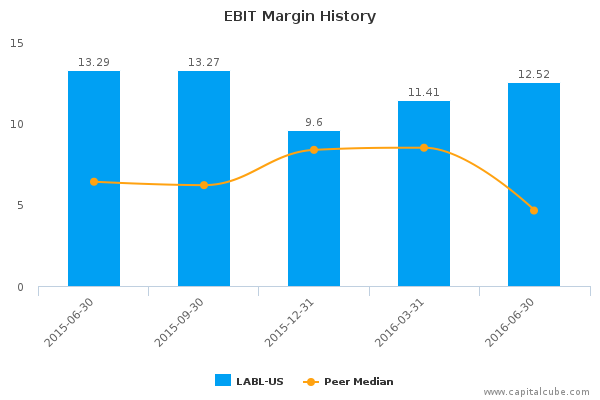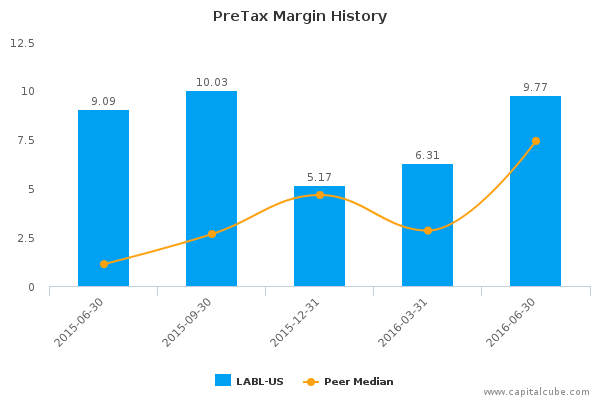 Access our Ratings and Scores for Multi-Color Corp.
Company Profile
Multi-Color Corp. is engaged in the business of global label solutions supporting various brands such as home and personal care, wine and spirit, food and beverages, healthcare and specialty consumer products. Its products include pressure sensitive labels, in-molds, glue-applied, heat transfer, and shrink sleeve labels. The company also provides services such as conversion of customer digital files and artwork into proofs, production of print layouts and printing plates, and product mock ups and samples for market research. The company was founded in 1916 and is headquartered in Batavia, OH.
CapitalCube does not own any shares in the stocks mentioned and focuses solely on providing unique fundamental research and analysis on approximately 50,000 stocks and ETFs globally. Try any of our analysis, screener or portfolio premium services free for 7 days. To get a quick preview of our services, check out our free quick summary analysis of LABL-US.