Performant Financial Corp. reports financial results for the quarter ended September 30, 2017.
We analyze the earnings along side the following peers of Performant Financial Corp. – ExlService Holdings, Inc., HMS Holdings Corp. and ARC Document Solutions, Inc. (EXLS-US, HMSY-US and ARC-US) that have also reported for this period.
Highlights
Summary numbers: Revenues of USD 29.74 million, Net Earnings of USD -7.85 million.
Gross margins narrowed from 0.56% to -14.28% compared to the same period last year, operating (EBITDA) margins now -5.15% from 11.11%.
Year-on-year change in operating cash flow of -1,229.01% is about the same as the change in earnings, likely no significant movement in accruals or reserves.
Narrowing of operating margins contributed to decline in earnings.
The table below shows the preliminary results and recent trends for key metrics such as revenues and net income growth:
| | 2017-09-30 | 2017-06-30 | 2017-03-31 | 2016-12-31 | 2016-09-30 |
| --- | --- | --- | --- | --- | --- |
| Relevant Numbers (Quarterly) | | | | | |
| Revenues (mil) | 29.74 | 35.91 | 33.11 | 33.81 | 31.2 |
| Revenue Growth (%YOY) | -4.65 | -5.69 | -13.51 | -17.64 | -18.99 |
| Earnings (mil) | -7.85 | -2.44 | -2.96 | -12.3 | -0.72 |
| Earnings Growth (%YOY) | -998.04 | -265.2 | -3798.75 | -660.14 | -127.71 |
| Net Margin (%) | -26.4 | -6.8 | -8.94 | -36.36 | -2.29 |
| EPS | -0.15 | -0.05 | -0.06 | -0.24 | -0.01 |
| Return on Equity (%) | -9.7 | -2.92 | -3.47 | -13.39 | -0.74 |
| Return on Assets (%) | -18.83 | -5.56 | -6.46 | -24.52 | -1.3 |
Access our Ratings and Scores for Performant Financial Corp.
Market Share Versus Profits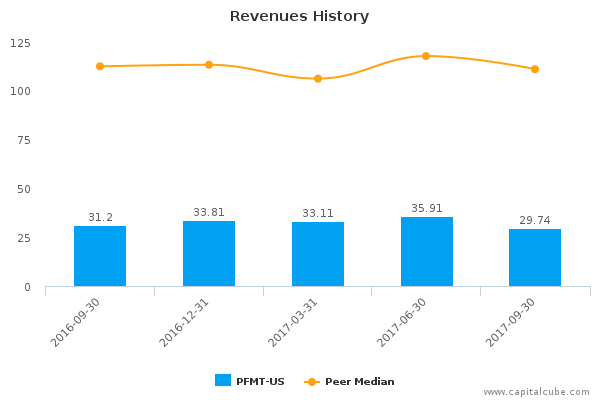 PFMT-US's change in revenue this period compared to the same period last year of -4.65% is almost the same as its change in earnings, and is about average among the announced results thus far in its peer group, suggesting that PFMT-US is holding onto its market share. Also, for comparison purposes, revenues changed by -17.16% and earnings by -221.76% compared to the immediate last period.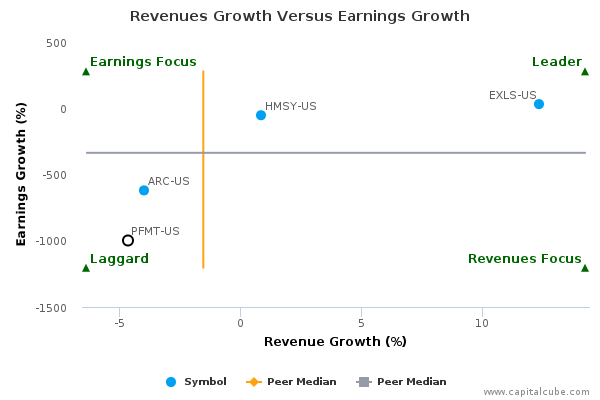 Quadrant label definitions. Hover to know more
Leader, Earnings Focus, Laggard, Revenues Focus
Earnings Growth Analysis
The company's year-on-year decline in earnings was influenced by a weakening in gross margins from 0.56% to -14.28%, as well as issues with cost controls. As a result, operating margins (EBITDA margins) went from 11.11% to -5.15% in this time frame. For comparison, gross margins were -1.74% and EBITDA margins were 6.32% in the previous period.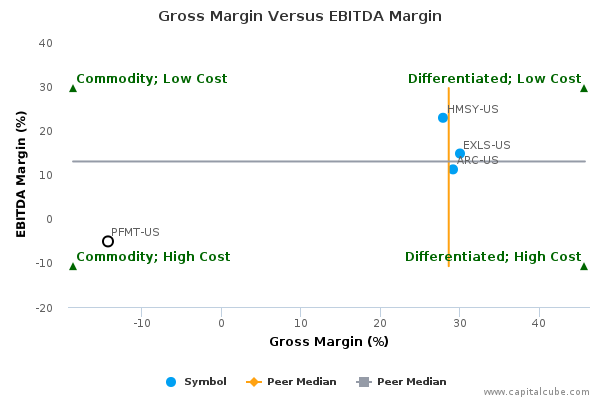 Quadrant label definitions. Hover to know more
Differentiated; Low Cost, Commodity; Low Cost, Commodity; High Cost, Differentiated; High Cost
Gross Margin Trend
Companies sometimes sacrifice improvements in revenues and margins in order to extend friendlier terms to customers and vendors. Capital Cube probes for such activity by comparing the changes in gross margins with any changes in working capital. If the gross margins improved without a worsening of working capital, it is possible that the company's performance is a result of truly delivering in the marketplace and not simply an accounting prop-up using the balance sheet.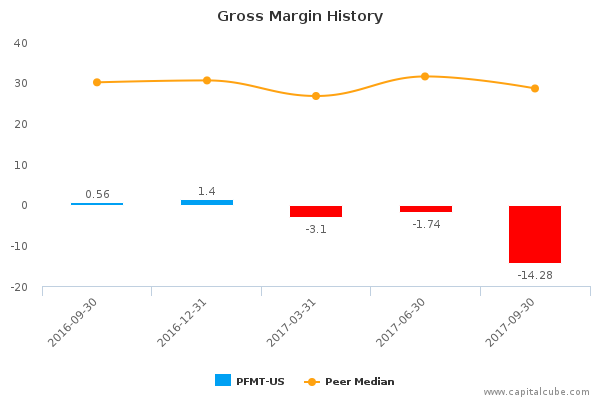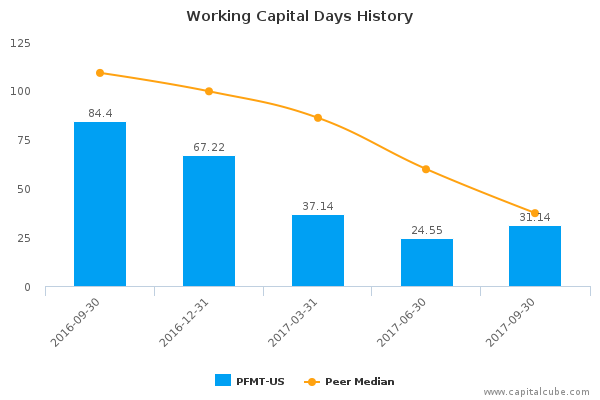 PFMT-US's decline in gross margins were offset by some improvements on the balance sheet. The management of working capital, for example, shows progress. The company's working capital days are now 31.14 days from 84.40 days for the same period last year. This leads Capital Cube to conclude that the gross margin decline is not altogether bad.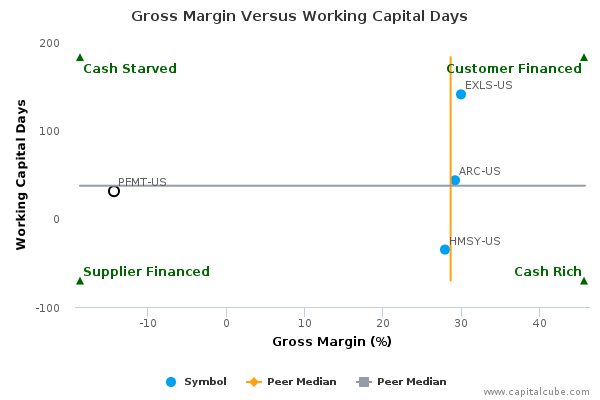 Quadrant label definitions. Hover to know more
Customer Financed, Cash Starved, Supplier Financed, Cash Rich
Cash Versus Earnings – Sustainable Performance?
It is important to examine a company�s cash versus earnings numbers to gauge whether its performance is sustainable.
PFMT-US's change in operating cash flow of -1,229.01% compared to the same period last year is about the same as its change in earnings this period. Additionally, this change in operating cash flow is about average among its peer group. This suggests that the company did not use accruals or reserves to manage earnings this period, and that, all else being equal, the earnings number is sustainable.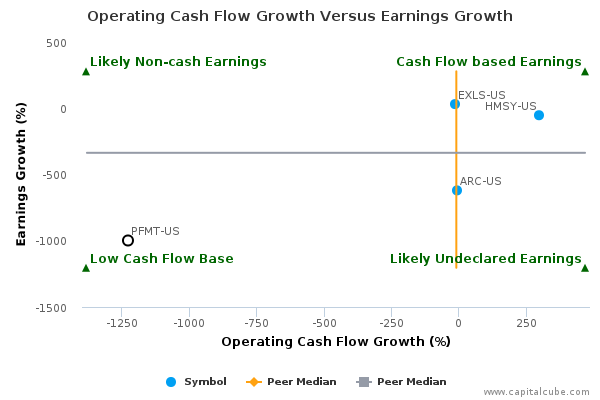 Quadrant label definitions. Hover to know more
Cash Flow based Earnings, Likely Non-cash Earnings, Low Cash Flow Base, Likely Undeclared Earnings
Margins
The company's decline in earnings has been influenced by the following factors: (1) Decline in operating margins (EBIT margins) from 0.56% to -14.28% and (2) one-time items that contributed to a decrease in pretax margins from -5.41% to -22.54%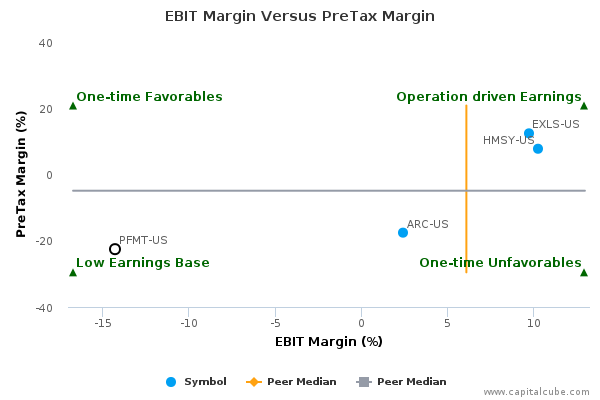 Quadrant label definitions. Hover to know more
Operation driven Earnings, One-time Favorables, Low Earnings Base, One-time Unfavorables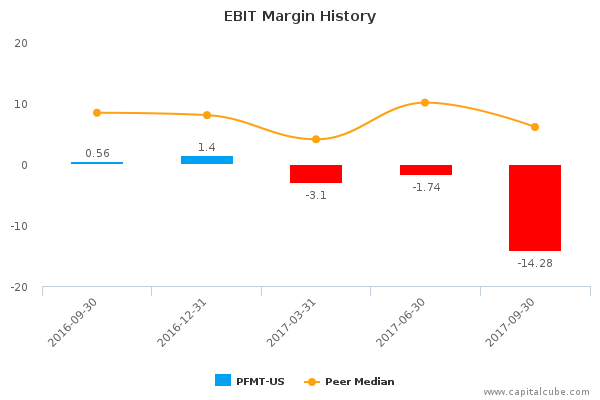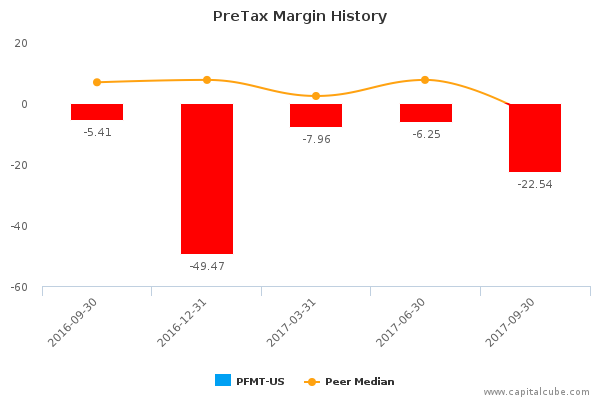 Access our Ratings and Scores for Performant Financial Corp.
Company Profile
Performant Financial Corp. engages in the provision of technology-enabled services platform that provides recovery and analytics services. It identifies and recovers student loans, improper healthcare payments, delinquent state tax and federal treasury receivables. It operates through the Performant Recovery and Performant Technologies businesses. The Performant Recovery business focuses on audit and recovery services for commercial and government clients. The Performant Technologies business uses analytics to uncover value in complex data. The company was founded in 1976 and is headquartered in Livermore, CA.
CapitalCube does not own any shares in the stocks mentioned and focuses solely on providing unique fundamental research and analysis on approximately 50,000 stocks and ETFs globally. Try any of our analysis, screener or portfolio premium services free for 7 days. To get a quick preview of our services, check out our free quick summary analysis of PFMT-US.
Disclaimer
The information presented in this report has been obtained from sources deemed to be reliable, but AnalytixInsight does not make any representation about the accuracy, completeness, or timeliness of this information. This report was produced by AnalytixInsight for informational purposes only and nothing contained herein should be construed as an offer to buy or sell or as a solicitation of an offer to buy or sell any security or derivative instrument. This report is current only as of the date that it was published and the opinions, estimates, ratings and other information may change without notice or publication. Past performance is no guarantee of future results. Prior to making an investment or other financial decision, please consult with your financial, legal and tax advisors. AnalytixInsight shall not be liable for any party's use of this report. AnalytixInsight is not a broker-dealer and does not buy, sell, maintain a position, or make a market in any security referred to herein. One of the principal tenets for us at AnalytixInsight is that the best person to handle your finances is you. By your use of our services or by reading any of our reports, you're agreeing that you bear responsibility for your own investment research and investment decisions. You also agree that AnalytixInsight, its directors, its employees, and its agents will not be liable for any investment decision made or action taken by you and others based on news, information, opinion, or any other material generated by us and/or published through our services. For a complete copy of our disclaimer, please visit our website www.analytixinsight.com.