P&F Industries, Inc. reports financial results for the year ended December 31, 2015.
We analyze the earnings along side the following peers of P&F Industries, Inc. – Actuant Corporation Class A, Snap-on Incorporated and Eastern Company (ATU-US, SNA-US and EML-US) that have also reported for this period.
Highlights
Gross margins widened from 36.49% to 36.63% compared to the same period last year, operating (EBITDA) margins now 7.29% from 9.80%.
Earnings growth from operating margin improvements as well as one-time items.
The table below shows the preliminary results and recent trends for key metrics such as revenues and net income growth:
| | 2011 | 2012 | 2013 | 2014 | 2015 |
| --- | --- | --- | --- | --- | --- |
| Relevant Numbers (Annual) | | | | | |
| Revenues | 54.54 | 59.87 | 76.07 | 75.04 | 81.7 |
| Revenue Growth (YOY) | N/A | N/A | N/A | N/A | N/A |
| Earnings | 1.91 | 5.45 | 3.23 | 2.08 | 3.54 |
| Earnings Growth (YOY) | 459.82 | 185.49 | -40.83 | -35.5 | 70.38 |
| Net Margin | 3.5 | 9.1 | 4.24 | 2.77 | 4.34 |
| EPS | 0.69 | 1.44 | 0.83 | 0.54 | 0.94 |
| Return on Equity | 6.87 | 16.97 | 8.74 | 5.28 | 8.48 |
| Return on Assets | 3.92 | 10.61 | 5.95 | 3.29 | 4.93 |
Access our Ratings and Scores for P&F Industries, Inc.
Earnings Growth Analysis
The company's earnings growth has been influenced by the year-on-year improvement in gross margins from 36.49% to 36.63%. However the company's overhead costs have prevented it from fully capitalizing on these gross margin improvements. In fact, the company's operating margins (EBITDA margins) showed no improvement over the same period last year.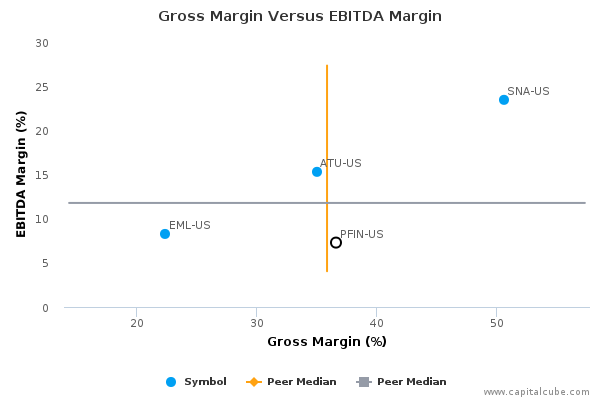 Gross Margin Trend
Companies sometimes sacrifice improvements in revenues and margins in order to extend friendlier terms to customers and vendors. Capital Cube probes for such activity by comparing the changes in gross margins with any changes in working capital. If the gross margins improved without a worsening of working capital, it is possible that the company's performance is a result of truly delivering in the marketplace and not simply an accounting prop-up using the balance sheet.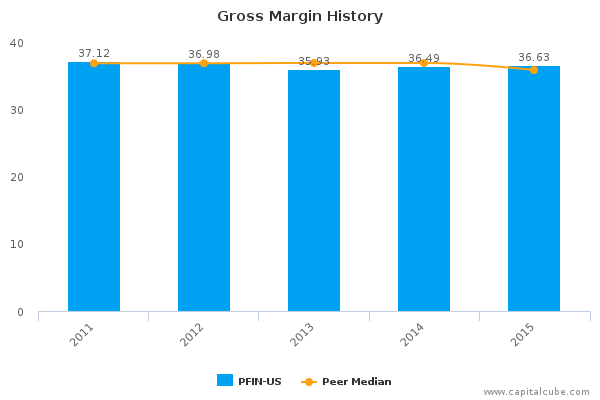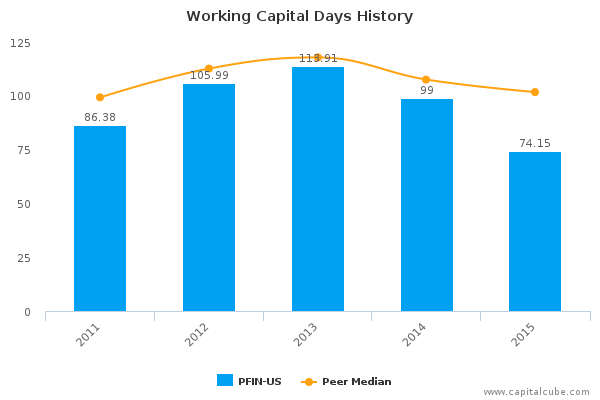 PFIN-US's improvement in gross margin has been accompanied by an improvement in its balance sheet as well. This suggests that gross margin improvements are likely from operating decisions and not accounting gimmicks. Its working capital days have declined to 74.15 days from 99.00 days for the same period last year.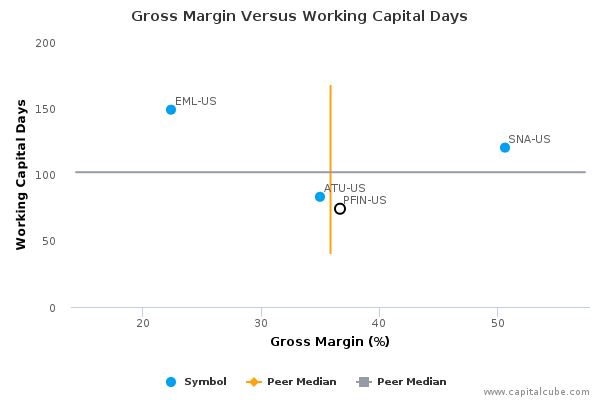 Margins
The company's earnings growth has also been influenced by the following factors: (1) Improvements in operating (EBIT) margins from 6.77% to 7.29% and (2) one-time items. The company's pretax margins are now 6.57% compared to 5.03% for the same period last year.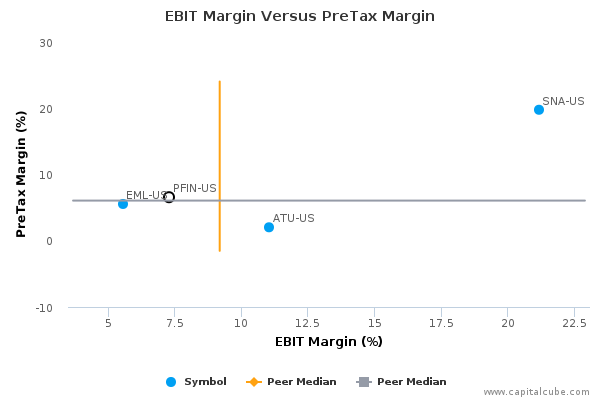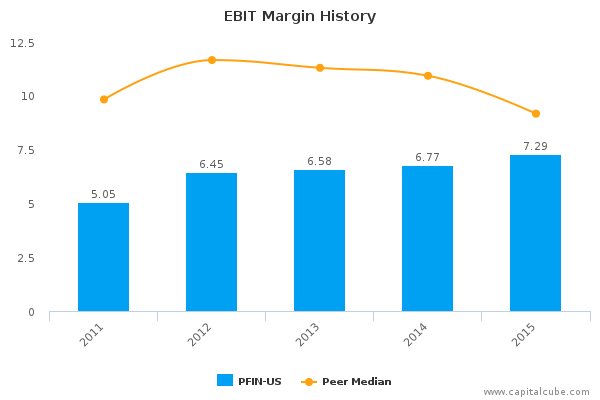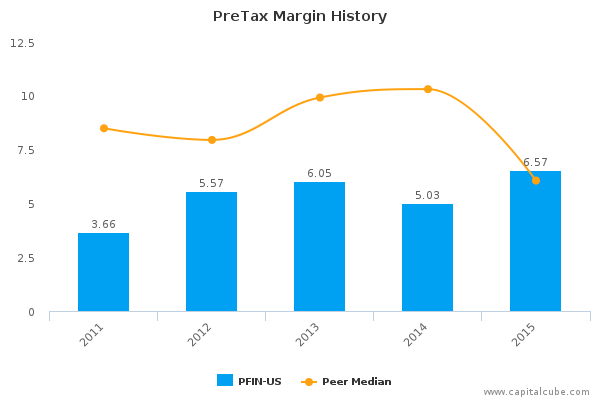 Access our Ratings and Scores for P&F Industries, Inc.
Company Profile
P&F Industries, Inc. manufactures and imports air-powered tools and residential hardware. The company through its subsidiaries operates its business under two segments: Tools and Other Products and Hardware and Accessories. The Tools and Other Products segment conducts its business through a companies wholly-owned subsidiary, Continental Tool Group, Inc., which in turn currently operates through its wholly-owned subsidiaries, Florida Pneumatic Manufacturing Corp. and Hy-Tech Machine, Inc. The Tools and Other Products segment engages in the importation and sale of pneumatic hand tools and compressor air filters. This segment also manufactures industrial pneumatic tools and it markets under the names ATP, Thaxton, THOR and Eureka, as well as under the trade names or trademarks of other private label customers. Its line of products includes grinders, drills, saws, impact wrenches and pavement breakers. The Hardware and Accessories segment operates its business through a wholly-owned subsidiary, Countrywide Hardware, Inc. Countrywide conducts its business operations through its wholly-owned subsidiary, Nationwide Industries, Inc. This segment imports and manufactures door, window and fencing hardware, and accessories including rollers, hinges, window operators, sash locks, custom zinc castings and door closers. P&F Industries was founded on April 19, 1963 and is headquartered in Melville, NY.
CapitalCube does not own any shares in the stocks mentioned and focuses solely on providing unique fundamental research and analysis on approximately 50,000 stocks and ETFs globally. Try any of our analysis, screener or portfolio premium services free for 7 days. To get a quick preview of our services, check out our free quick summary analysis of PFIN-US.