R.R. Donnelley & Sons Co. reports financial results for the quarter ended June 30, 2016.
We analyze the earnings along side the following peers of R.R. Donnelley & Sons Co. – Deluxe Corporation, Cimpress N.V., Quad/Graphics, Inc. Class A, Thomson Reuters Corporation, Cenveo, Inc. and TEGNA, Inc. (DLX-US, CMPR-US, QUAD-US, TRI-US, CVO-US and TGNA-US) that have also reported for this period.
Highlights
Summary numbers: Revenues of USD 2,729.70 million, Net Earnings of USD -14.50 million.
Gross margins widened from 18.30% to 18.35% compared to the same period last year, operating (EBITDA) margins now 6.86% from 11.43%.
Year-on-year change in operating cash flow of -54.94% is about the same as the change in earnings, likely no significant movement in accruals or reserves.
Narrowing of operating margins contributed to decline in earnings.
The table below shows the preliminary results and recent trends for key metrics such as revenues and net income growth:
| | 2015-06-30 | 2015-09-30 | 2015-12-31 | 2016-03-31 | 2016-06-30 |
| --- | --- | --- | --- | --- | --- |
| Relevant Numbers (Quarterly) | | | | | |
| Revenues (mil) | 2748.1 | 2828 | 2934.6 | 2651.4 | 2729.7 |
| Revenue Growth (%YOY) | -5.32 | -4.39 | -4.39 | -3.45 | -0.67 |
| Earnings (mil) | 43.5 | 14.3 | 71 | 39.8 | -14.5 |
| Earnings Growth (%YOY) | -32.77 | -77.01 | 264.1 | 78.48 | -133.33 |
| Net Margin (%) | 1.58 | 0.51 | 2.42 | 1.5 | -0.53 |
| EPS | 0.21 | 0.07 | 0.34 | 0.19 | -0.07 |
| Return on Equity (%) | 26.85 | 8.17 | 41.79 | 22.84 | -8.81 |
| Return on Assets (%) | 2.37 | 0.76 | 3.85 | 2.22 | -0.82 |
Access our Ratings and Scores for R.R. Donnelley & Sons Co.
Market Share Versus Profits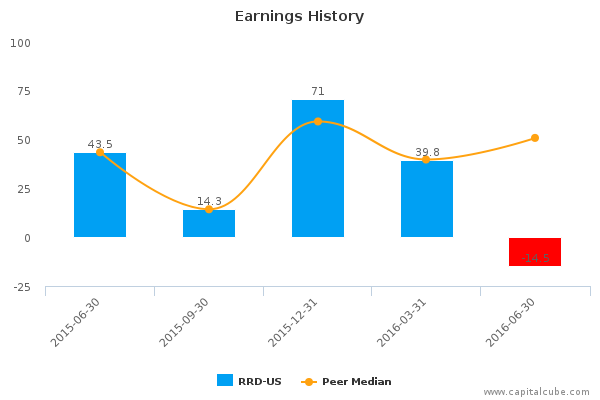 RRD-US's change in revenue this period compared to the same period last year of -0.67% is almost the same as its change in earnings, and is about average among the announced results thus far in its peer group, suggesting that RRD-US is holding onto its market share. Also, for comparison purposes, revenues changed by 2.95% and earnings by -136.43% compared to the immediate last period.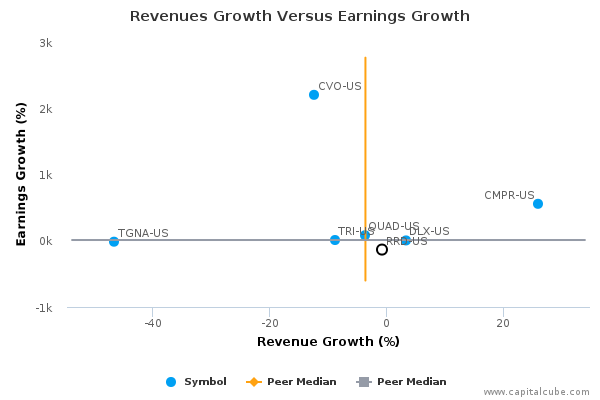 Earnings Growth Analysis
The company's earnings declined year-on-year largely because of the increases in operating costs. Its operating margins (EBITDA margins) went from 11.43% to 6.86%. This decline in earnings would have been worse except for the fact that the company showed improvement in gross margins, from 18.30% to 18.35%. For comparison, gross margins were 17.44% and EBITDA margins 9.63% in the immediate last period.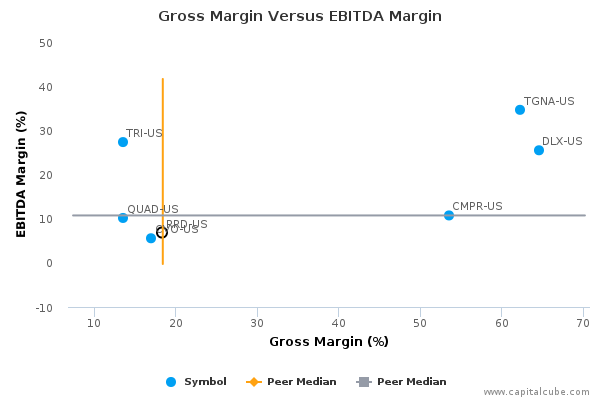 Gross Margin Trend
Companies sometimes sacrifice improvements in revenues and margins in order to extend friendlier terms to customers and vendors. Capital Cube probes for such activity by comparing the changes in gross margins with any changes in working capital. If the gross margins improved without a worsening of working capital, it is possible that the company's performance is a result of truly delivering in the marketplace and not simply an accounting prop-up using the balance sheet.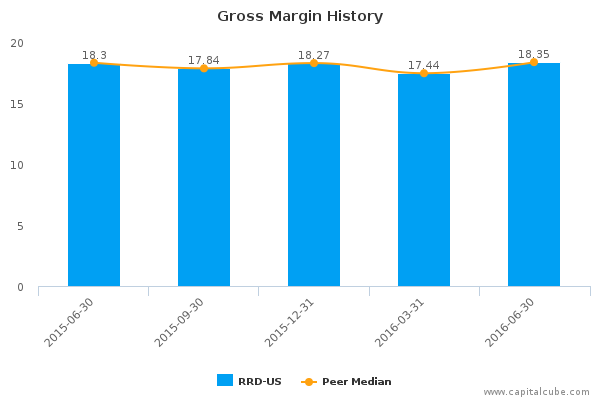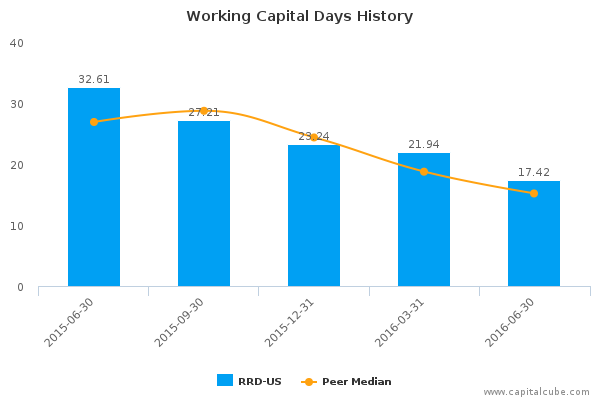 RRD-US's improvement in gross margin has been accompanied by an improvement in its balance sheet as well. This suggests that gross margin improvements are likely from operating decisions and not accounting gimmicks. Its working capital days have declined to 17.42 days from 32.61 days for the same period last year.
Cash Versus Earnings – Sustainable Performance?
RRD-US's change in operating cash flow of -54.94% compared to the same period last year is about the same as its change in earnings this period. Additionally, this change in operating cash flow is about average among its peer group. This suggests that the company did not use accruals or reserves to manage earnings this period, and that, all else being equal, the earnings number is sustainable.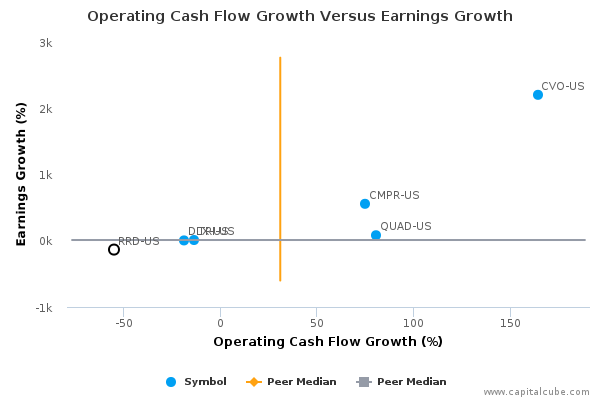 Margins
The company's decline in earnings has been influenced by the following factors: (1) Decline in operating margins (EBIT margins) from 7.33% to 3.05% and (2) one-time items that contributed to a decrease in pretax margins from 2.79% to -0.64%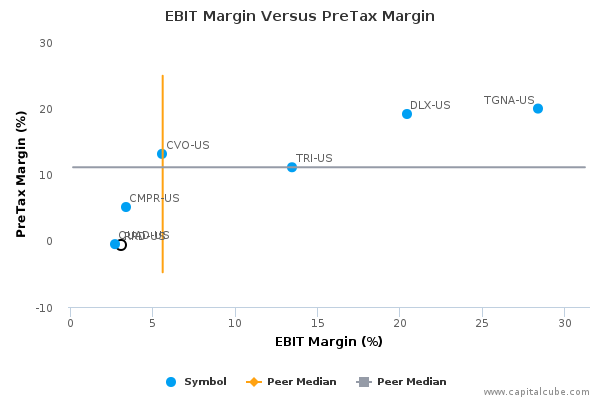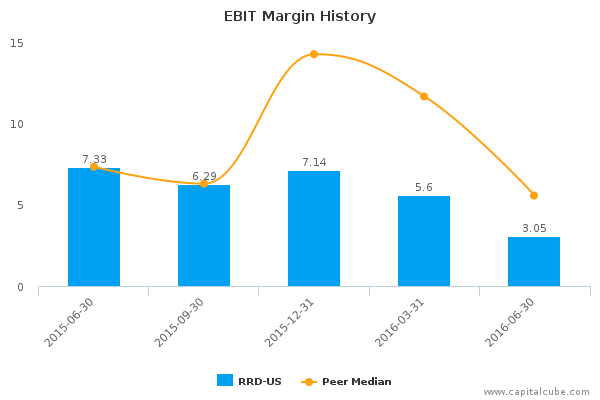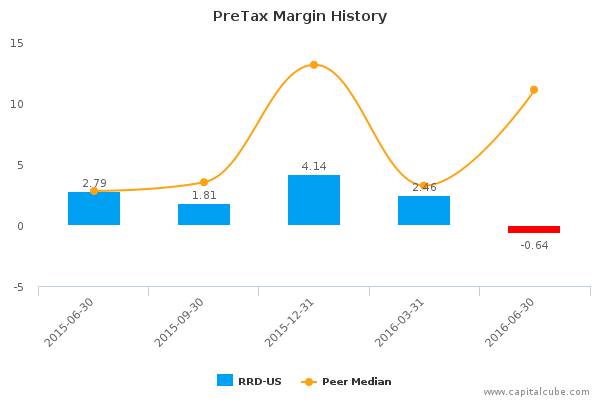 Access our Ratings and Scores for R.R. Donnelley & Sons Co.
Company Profile
R.R. Donnelley & Sons Co. provides integrated communications. It helps organizations communicate by working to create, manage, produce, distribute and process content on behalf of their customers. The company provides Internet-based services and other resources to premedia, printing, logistics and business process outsourcing services to clients in private and public sectors. It operates business through four segments: Publishing & Retail Services, Variable Print, Strategic Services and International. The Publishing & Retail Services segment includes magazines, catalogs, retail inserts, books, and directories. The Variable Print segment includes commercial and digital print, direct mail, labels, statement printing, forms, and office products. The Strategic Services segment includes logistics, financial, digital and creative solutions, and domestic-based sourcing all of which are value-added offerings that complement its core print business. International: product and service offerings in Asia, Latin America, Europe and Canada, Business Process Outsourcing, and Global Turnkey Solutions, an international supply chain offering that delivers value-added solutions to the consumer electronics, life sciences and telecom sectors. The company was founded by Richard Robert Donnelley in 1864 and is headquartered in Chicago, IL.
CapitalCube does not own any shares in the stocks mentioned and focuses solely on providing unique fundamental research and analysis on approximately 50,000 stocks and ETFs globally. Try any of our analysis, screener or portfolio premium services free for 7 days. To get a quick preview of our services, check out our free quick summary analysis of RRD-US.