On paper, a fast food company ought to be one of the easiest ones to value. After all, all you need is a close study of menu offerings, right questions to management to elicit knowledge on margins, growth plans and a good assessment of customer spending power. Right? Wrong.
As we roll into 2014 the valuation of fast food stocks will no longer depend on just the usual checklist. Efficient capital allocation and expansion plans will play a strong role. The long term value of some companies will depend on how they execute on investment plans. That's because the U.S. fast food restaurant industry, comprising of companies like McDonald's (NYSE:MCD), Yum! Brands (NYSE:YUM), Chipotle (NYSE:CMG), Buffalo Wild Wings (NASDAQ:BWLD), Wendy's (NASDAQ:WEN) and Burger King (NYSE:BKW) face saturation in many of their established markets.
When it comes to big investment bets, undoubtedly,  Yum! Brands Inc. (NYSE:YUM) tops the roster. Capital Cube analysis can quickly reveal how efficient a company has been in deploying capital. Yum! Brands has been under investing in its business (see chart from CapitalCube).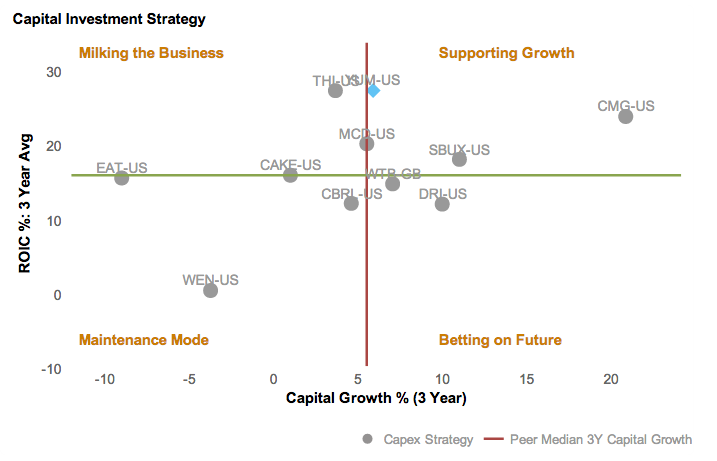 YUM's annualized rate of change in capital of 5.9% over the past three years is around the same as its peer median of 5.5%. This investment has generated a better-than-peer median return on capital of 27.1% averaged over the same three years. This rate of return suggests the company may be under investing in growth.
Today, investing in growth markets has to be the mainstay of YUM!'s future growth plans. Currently, YUM!  has only two restaurants per million people in the top 10 emerging markets in the world, compared to 58 per million in the United States.
'We are on the ground floor of global growth in a lot of countries, particularly in emerging markets," CEO David Novak said. The company is looking to invest roughly around $10 billion over the next seven years. The key destination for these investments would be India, China, Africa, Russia, Indonesia, Vietnam and Brazil. YUM! wants to have over 20,000 restaurants in emerging markets by 2020.
YUM! for India
For YUM!, as well as for some of its peers, the low-hanging fruit  is of course India where its expansion has not kept pace with the growth in affordability of the Indian middle class – its main target market. It currently has 613 units – KFC, Pizza Hut, Taco Bell –and is planning to have a total of 1,000 of them in 100 cities by 2015. Right now YUM! generates barely 1% of its revenues out of India, according to securities firm CLSA. CLSA forecasts the market for fast food restaurants to grow to $6.5 billion by 2018.
From a valuation perspective YUM! has its task cut out. The company is trading a forward price-to-earnings multiple at 28X but based on its current franchise operations the market expects an 11% growth in earnings (CAGR) over the next five years. In short, some of its expected growth is being priced into the share price.
A compelling reason to have faith in YUM!'s emerging market plans is the commendable job it has done in China over the past few years. Today it has over 4,260 KFC units and 826 Pizza Hut restaurants there. Last year it notched over a billion dollars of operating profits, nearly half of the group total.  This year YUM! is taking a hit because of issues regarding its poultry supply chain. Still, it has notched $557 million of operating profits, out of a group total of $1.13 billion in the year to date.
For most of the last decade YUM!'s share price has consistently outperformed the S&P 500 Restaurants Index.
What's important, however, are the margins that YUM! can achieve on its sales. On that count, YUM's China restaurant business earned 22.1%, 19.7% and 18.1% in 2010, 2011 and 2012, respectively. This compares to 14.2%, 12.1% and 16.3% the company achieved at its U.S. restaurant business.  Surely, YUM! would be striving to achieve China-like margins in India.
McDonalds' & Wendy's: Efficient Capital Allocation
Like YUM!, McDonalds' (NYSE:MCD) returns on its investment plans should attract attention as well. The company recently said it would be investing nearly $3.0 billion to open 1,500 to 1,600 new restaurant models in the next year and remodel 1,000 others.  McDonald's return on invested capital is roughly 19% which translates to roughly $600 million incremental operating earnings.
Capital allocation strategy will also be in focus at another quick service restaurant, Wendy's (NASDAQ:WEN).  But for different reasons. Wendy's is one of the most innovative QSRs, when it comes to experimenting with its menu.  It has usually been among the first to pick up on shift in consumer tastes. For instance, its current offering of pretzel  burgers and sandwiches have attracted health-conscious customers with deeper pockets.
But attracting  high-end customers also means the improving décor and image of restaurant sites.  Wendy's launched its 'Image Activation' strategy in 2011 which incorporates the improvements.  Its strategy has been fairly straightforward – sell some owned restaurants to franchisees – and use the capital towards improvements as well as increasing dividends and share buybacks.
For the current year it has allocated about $235 million towards capital expenditure out of which $145 million is towards Image Activation. It has already sold 118 restaurants and is in the process of selling 425 stores. The so called asset arbitrage has benefited investors this year.  The company has already paid out $51 million in dividends, $28 million more than last year and has bought back $41.5 million of shares. It is continuing on its $100 million share buy-back program that has already been put in place. These actions have helped Wendy's stock price to outperform the S&P 500 Restaurants Index by nearly 60% this year.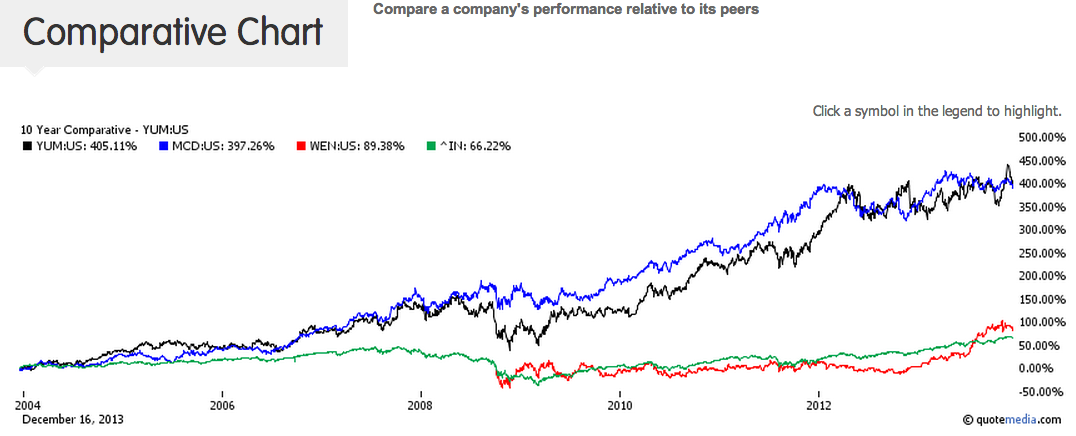 Undoubtedly, for most companies in the sector the earnings power of their existing franchises is already priced in. The future growth is in finding new markets and in timely return of capital to shareholders. For investors in this sector the potential goes beyond just short term growth in customers.
The views and opinions expressed above are those of the author and do not necessarily reflect the views of  CapitalCube.com, AnalytixInsight, Inc., its affiliates, or its employees.