Our analysis is based on comparing Sibanye Gold Ltd. with the following peers – Barrick Gold Corporation, Newmont Mining Corporation, AngloGold Ashanti Limited Sponsored ADR, Harmony Gold Mining Co. Ltd. Sponsored ADR, Gold Fields Limited Sponsored ADR and DRDGOLD Limited Sponsored ADR (ABX-US, NEM-US, AU-US, HMY-US, GFI-US and DRD-US).
Dividend Quality Overview
Dividend quality trend has not been consistent over the last five years. Dividends were paid during each of these years — of these 2 were high quality, 1 was medium quality and 2 were low quality.
The ending cash balance is less than the last full year dividend payment and cannot be relied on to cushion any significant reduction of cash flows in the future.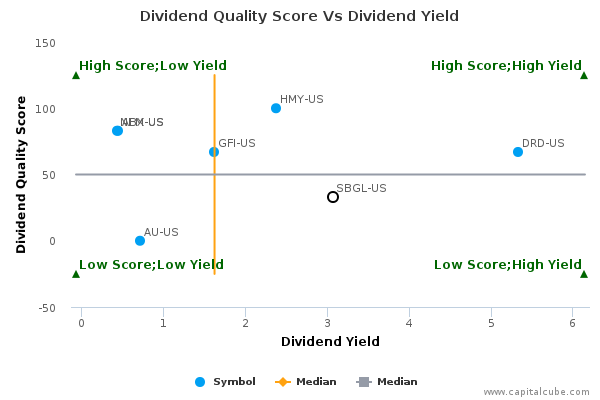 Quadrant label definitions. Hover to know more
High Score;High Yield, High Score;Low Yield, Low Score;Low Yield, Low Score;High Yield
Dividend Coverage
Over the last twelve months (prior to December 31, 2016), SBGL-US paid a medium quality dividend.
The source of the company's cash to support the dividend paid over the last twelve months is operating cash flow (coverage of 3.73x), investing cash flow (coverage of -5.86x), issuance cash flow (coverage of 3.38x) and twelve-month prior cash (coverage of 0.42x), for a total dividend coverage of 1.64x.
These coverage ratio factors imply that the firm's net cash inflow from issuance was required (in addition to operating and investment cash) to pay the dividend, which suggests a medium dividend quality.
Dividend History
| Item | 2012-12-31 | 2013-12-31 | 2014-12-31 | 2015-12-31 | 2016-12-31 | Latest |
| --- | --- | --- | --- | --- | --- | --- |
| Dividend Yield (%) | N/A | 3.17 | 5.44 | 3.68 | 6.78 | 3.07 |
| Dividend Payout (%) | 24.54 | 16.07 | 64.79 | 91.84 | 43.55 | 42.1 |
A complete list of metrics and analysis is available on the company page.
Company Profile
Sibanye Gold Ltd. operates as a gold mining company, which is primarily involved in underground and surface gold mining and related activities, including, extraction, processing and smelting. It holds interest in the Kloof Driefontein Complex located in the Gauteng Province, the Beatrix Gold Mine located in the Magisterial District of Westonaria, Cooke Operations in the West Wits Basin and Driefontein Operations situated near the town of Carletonville in the Gauteng province. Sibanye Gold was founded on December 12, 2002 and is headquartered in Westonaria, South Africa.
Disclaimer
The information presented in this report has been obtained from sources deemed to be reliable, but AnalytixInsight does not make any representation about the accuracy, completeness, or timeliness of this information. This report was produced by AnalytixInsight for informational purposes only and nothing contained herein should be construed as an offer to buy or sell or as a solicitation of an offer to buy or sell any security or derivative instrument. This report is current only as of the date that it was published and the opinions, estimates, ratings and other information may change without notice or publication. Past performance is no guarantee of future results. Prior to making an investment or other financial decision, please consult with your financial, legal and tax advisors. AnalytixInsight shall not be liable for any party's use of this report. AnalytixInsight is not a broker-dealer and does not buy, sell, maintain a position, or make a market in any security referred to herein. One of the principal tenets for us at AnalytixInsight is that the best person to handle your finances is you. By your use of our services or by reading any our reports, you're agreeing that you bear responsibility for your own investment research and investment decisions. You also agree that AnalytixInsight, its directors, its employees, and its agents will not be liable for any investment decision made or action taken by you and others based on news, information, opinion, or any other material generated by us and/or published through our services. For a complete copy of our disclaimer, please visit our website www.analytixinsight.com.