Sierra Wireless, Inc. reports financial results for the quarter ended September 30, 2016.
We analyze the earnings along side the following peers of Sierra Wireless, Inc. – NETGEAR, Inc., CalAmp Corp., LM Ericsson Telefon AB Sponsored ADR Class B, Rogers Communications Inc. Class B, Digi International Inc. and Cisco Systems, Inc. (NTGR-US, CAMP-US, ERIC-US, RCI-US, DGII-US and CSCO-US) that have also reported for this period.
Highlights
Summary numbers: Revenues of USD 153.56 million, Net Earnings of USD -1.77 million.
Gross margins narrowed from 29.66% to 29.21% compared to the same period last year, operating (EBITDA) margins now 4.27% from 6.18%.
Year-on-year change in operating cash flow of 136.87% is about the same as the change in earnings, likely no significant movement in accruals or reserves.
Narrowing of operating margins contributed to decline in earnings.
The table below shows the preliminary results and recent trends for key metrics such as revenues and net income growth:
| | 2016-09-30 | 2016-06-30 | 2016-03-31 | 2015-12-31 | 2015-09-30 |
| --- | --- | --- | --- | --- | --- |
| Relevant Numbers (Quarterly) | | | | | |
| Revenues (mil) | 153.56 | 156.23 | 142.8 | 144.85 | 154.58 |
| Revenue Growth (%YOY) | -0.66 | -1.1 | -5.06 | -2.84 | 7.89 |
| Earnings (mil) | -1.77 | 0.72 | 0.72 | -0.38 | 3.29 |
| Earnings Growth (%YOY) | -153.83 | -82.38 | 107.44 | 77.48 | 213.15 |
| Net Margin (%) | -1.15 | 0.46 | 0.5 | -0.26 | 2.13 |
| EPS | -0.06 | 0.02 | 0.02 | -0.01 | 0.1 |
| Return on Equity (%) | -2 | 0.81 | 0.8 | -0.43 | 3.65 |
| Return on Assets (%) | -1.27 | 0.53 | 0.53 | -0.28 | 2.43 |
Access our Ratings and Scores for Sierra Wireless, Inc.
Market Share Versus Profits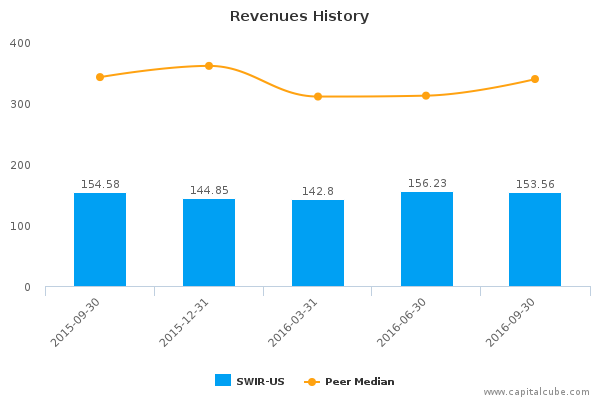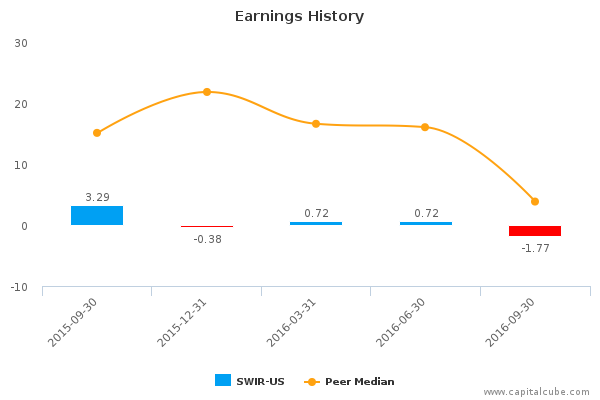 SWIR-US's change in revenue this period compared to the same period last year of -0.66% is almost the same as its change in earnings, and is about average among the announced results thus far in its peer group, suggesting that SWIR-US is holding onto its market share. Also, for comparison purposes, revenues changed by -1.71% and earnings by -346.38% compared to the immediate last period.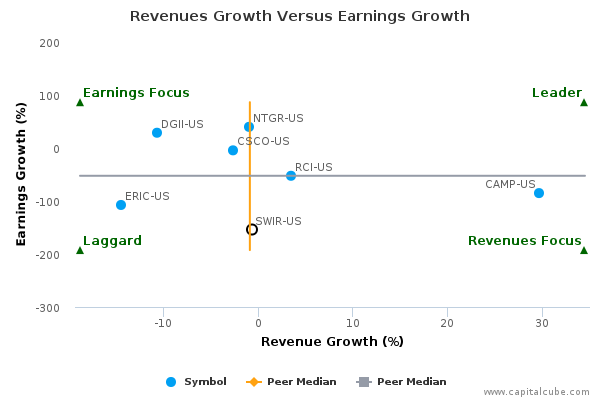 Quadrant label definitions. Hover to know more
Leader, Earnings Focus, Laggard, Revenues Focus
Earnings Growth Analysis
The company's year-on-year decline in earnings was influenced by a weakening in gross margins from 29.66% to 29.21%, as well as issues with cost controls. As a result, operating margins (EBITDA margins) went from 6.18% to 4.27% in this time frame. For comparison, gross margins were 29.47% and EBITDA margins were 5.30% in the previous period.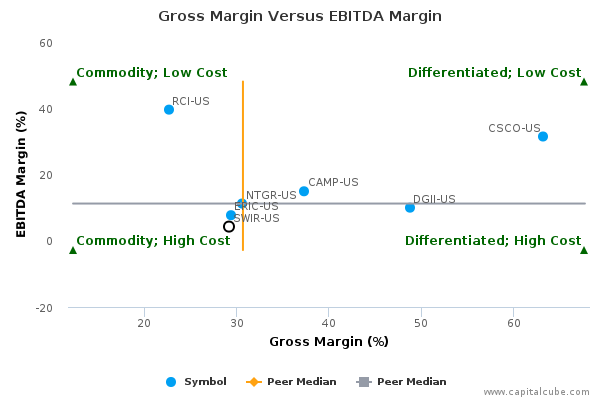 Quadrant label definitions. Hover to know more
Differentiated; Low Cost, Commodity; Low Cost, Commodity; High Cost, Differentiated; High Cost
Gross Margin Trend
Companies sometimes sacrifice improvements in revenues and margins in order to extend friendlier terms to customers and vendors. Capital Cube probes for such activity by comparing the changes in gross margins with any changes in working capital. If the gross margins improved without a worsening of working capital, it is possible that the company's performance is a result of truly delivering in the marketplace and not simply an accounting prop-up using the balance sheet.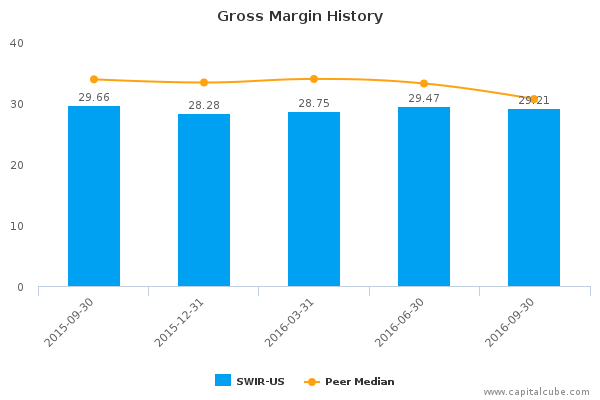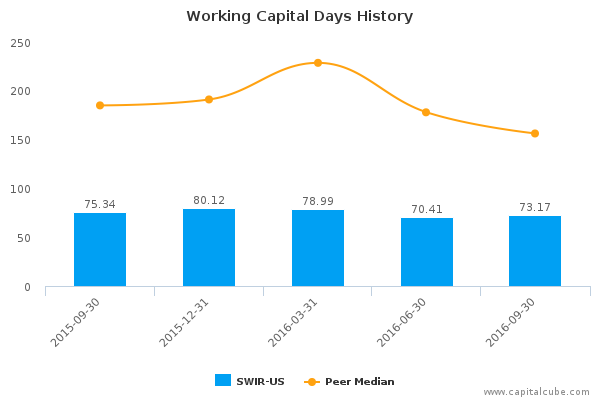 SWIR-US's decline in gross margins were offset by some improvements on the balance sheet. The management of working capital, for example, shows progress. The company's working capital days have fallen to 73.17 days from 75.34 days for the same period last year. This leads Capital Cube to conclude that the gross margin decline is not altogether bad.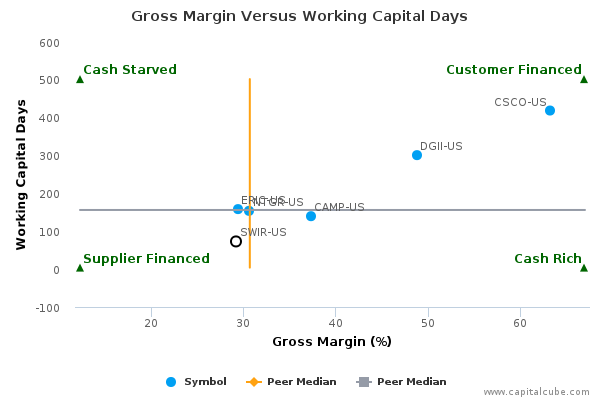 Quadrant label definitions. Hover to know more
Customer Financed, Cash Starved, Supplier Financed, Cash Rich
Cash Versus Earnings – Sustainable Performance?
SWIR-US's change in operating cash flow of 136.87% compared to the same period last year is about the same as its change in earnings this period. Additionally, this change in operating cash flow is about average among its peer group. This suggests that the company did not use accruals or reserves to manage earnings this period, and that, all else being equal, the earnings number is sustainable.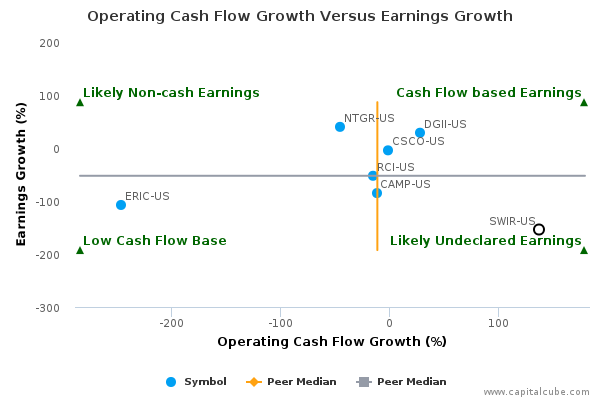 Quadrant label definitions. Hover to know more
Cash Flow based Earnings, Likely Non-cash Earnings, Low Cash Flow Base, Likely Undeclared Earnings
Margins
The company's decline in earnings has been influenced by the following factors: (1) Decline in operating margins (EBIT margins) from 3.03% to -0.01% and (2) one-time items that contributed to a decrease in pretax margins from 2.66% to 0.36%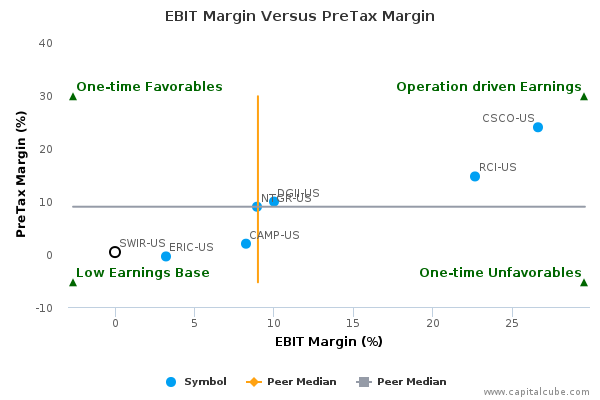 Quadrant label definitions. Hover to know more
Operation driven Earnings, One-time Favorables, Low Earnings Base, One-time Unfavorables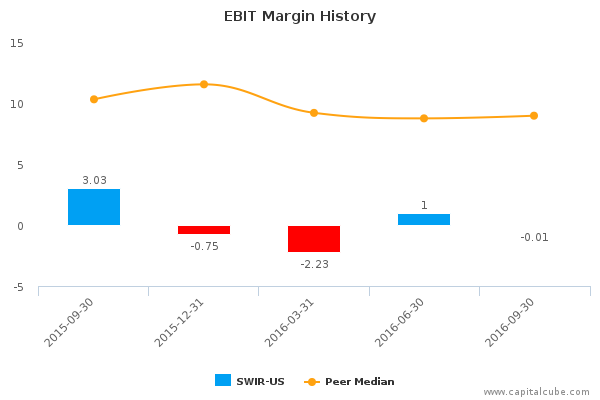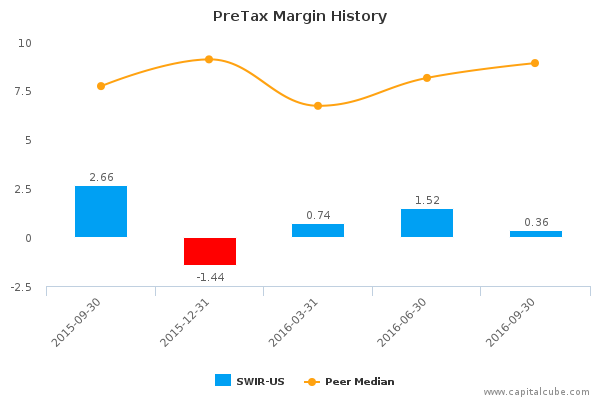 Access our Ratings and Scores for Sierra Wireless, Inc.
Company Profile
Sierra Wireless, Inc. develops and markets a range of wireless products that include embedded modules and embedded software for original equipment manufacturers, intelligent gateways and routers for industrial, commercial and public safety applications, and cloud-based platform for delivering device management and enabling end-to-end applications. The company operates through three segments: OEM Solutions, Enterprise Solutions and Cloud and Connectivity Services. The OEM Solutions segment includes cellular embedded modules, software and tools for OEM customers to integrate wireless cellular connectivity into products and solutions across a broad range of industries, including automotive, transportation, energy, enterprise networking, sales and payment, mobile computing, security, industrial monitoring, field services, residential, healthcare and others. The Enterprise Solutions segment includes a range of intelligent gateways and management tools and applications that enable cellular connectivity for mobile, industrial and enterprise customers. Its 2G, 3G and 4G LTE intelligent cellular gateways are designed for use where reliability and security are essential, and are used in transportation, public safety, field services, energy, industrial, and enterprise networking applications worldwide. The Cloud and Connectivity Services segment comprises three main areas of operation: cloud services business, which provides a secure and scalable cloud based platform for deploying and managing IoT applications; connectivity services, which includes its Smart SIM supported by company mobile core networks; and managed wireless broadband services business. These cloud and connectivity services support its fully integrated device-to-cloud strategy and are designed to enable worldwide IoT deployments by company customers. Sierra Wireless was founded on May 31, 1993 and is headquartered in Richmond, Canada.
CapitalCube does not own any shares in the stocks mentioned and focuses solely on providing unique fundamental research and analysis on approximately 50,000 stocks and ETFs globally. Try any of our analysis, screener or portfolio premium services free for 7 days. To get a quick preview of our services, check out our free quick summary analysis of SWIR-US.