*Disclaimer : This is as of previous day's closing price.
Technical Indicators
Below is a quick look at 5 technical indicators for STERIS Plc. More studies are available on the Technical Chart.
| Indicator | Signal |
| --- | --- |
| Closing Price above/below 50 Day Moving Average | Bearish |
| Closing Price above/below 200 Day Moving Average | Bullish |
| 50 Day Moving Average above/below 200 Day Moving Average | Bullish |
| RSI Reading Level (<30 or >70) | N/A |
| MACD Compared to 9D EMA Signal Line | Bullish |
View these and more technical studies for STERIS Plc
Share Price Performance Relative to Peers
Compared to peers, relative underperformance last month is down from a median performance last year.
While STE-US's change in share price of 10.46% for the last 12 months is in line with its peer median, its more recent 30-day share price performance of -2.41% is below peer median. This suggests that the company's performance has deteriorated more recently relative to peers.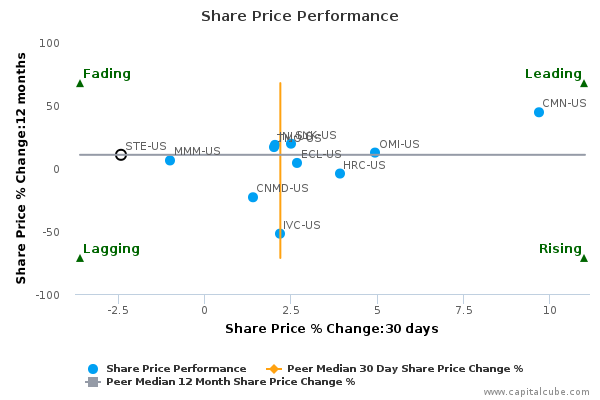 Quadrant label definitions. Hover to know more
Leading, Fading, Lagging, Rising
Screen for companies using relative share price performance
Earnings Momentum
STERIS Plc has an earnings score of 72.43 and has a relative valuation of OVERVALUED.
Stocks with High Earnings Momentum are a preferred option for momentum plays. If they are undervalued, it can be a further advantage and may indicate sustained momentum.
Quadrant label definitions. Hover to know more
Overvalued, High Earnings Momentum, Undervalued, High Earnings Momentum, UnderValued, Low Earnings Momentum, Overvalued, Low Earnings Momentum
Screen for companies using Earnings Momentum Score