Capitalcube gives STERIS Plc a score of 56.
Our analysis is based on comparing STERIS Plc with the following peers – Hill-Rom Holdings, Inc., Stryker Corporation, Cantel Medical Corp., Invacare Corporation, Thermo Fisher Scientific Inc., Owens & Minor, Inc., Ecolab Inc., CONMED Corporation, Johnson & Johnson and 3M Company (HRC-US, SYK-US, CMN-US, IVC-US, TMO-US, OMI-US, ECL-US, CNMD-US, JNJ-US and MMM-US).
Investment Outlook
STERIS Plc has a fundamental score of 56 and has a relative valuation of NEUTRAL.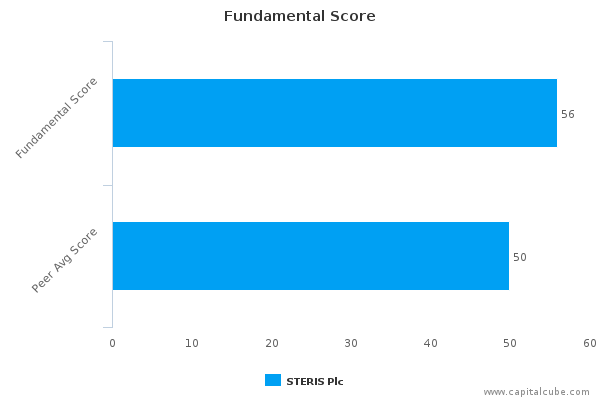 Access our research and ratings on STERIS Plc
Company Overview
From a peer analysis perspective, relative outperformance last month is up from a median performance last year.
STERIS Plc trades at a lower Price/Book multiple (1.98) than its peer median (3.17).
The market expects faster earnings growth from STE-US than from its peers and also a turnaround in its current ROE.
STE-US has relatively low profit margins and median asset efficiency.
Changes in annual revenues (relative to peers) are better than the change in its earnings (relative to peers), implying the company is focused more on revenues.
Over the last five years, STE-US's return on assets has declined from about median to less than the median among its peers suggesting that the company's historical competitiveness in operations is slipping away.
The company's margins are around the peer medians and do not suggest any benefit from a pricing or an operating cost advantage versus peers.
Compared with the peers chosen, STE-US has had faster revenue growth in prior years and a current P/E ratio that suggests faster growth in the future suggesting superior growth expectations.
The company is likely overinvesting in a business with only median returns.
STE-US has additional debt capacity.
Access our research and ratings on STERIS Plc
Leverage & Liquidity
STE-US has additional debt capacity.
With debt at a reasonable 21.42% of its enterprise value compared to an overall benchmark of 25% (Note: The peer median is currently 19.56%), and a well-cushioned interest coverage level of 6.42x, STE-US has the capacity to borrow some more.
All 10 peers for the company have an outstanding debt balance.
STE-US has maintained its relatively high liquidity profile from the recent year-end.
STE-US's interest coverage is its lowest relative to the last five years and compares to a high of 17.67x in 2012.
The decrease in its interest coverage to 6.42x from 7.55x (in 2016) was also accompanied by a decrease in its peer median during this period to 7.34x from 10.67x.
Interest coverage rose 2.21 points relative to peers.
STE-US's debt-EV is its highest relative to the last five years and compares to a low of 11.13% in 2012.
Though its debt-EV has remained relatively stable at 21.42% compared to 2016, its peer median has increased to 19.56% from 16.07% during this period.
Relative to peers, debt-EV fell 3.14 percentage points.
Access the detailed analysis for STERIS Plc
Key Liquidity Items
| Company | Debt/Enterprise Value (%) | Current Ratio | Interest Coverage (x) | Cash Flow To Total Debt (%) |
| --- | --- | --- | --- | --- |
| Hill-Rom Holdings, Inc. | 40.65 | 1.99 | 2.61 | 12.58 |
| Stryker Corporation | 15.66 | 2.17 | 21.69 | 32.69 |
| Cantel Medical Corp. | 4.57 | 2.48 | 29.67 | 64.62 |
| Invacare Corporation | 37.33 | 1.96 | -1.03 | 0.79 |
| Thermo Fisher Scientific Inc. | 19.56 | 1.15 | 6.08 | 22.28 |
| Owens & Minor, Inc. | 20.51 | 1.89 | 8.51 | 30.19 |
| Ecolab Inc. | 16.57 | 0.97 | 7.34 | 26.99 |
| CONMED Corporation | 28.46 | 3.49 | 5.4 | 13.76 |
| Johnson & Johnson | 8.31 | 3.08 | 29.99 | 74.27 |
| 3M Company | 10.15 | 1.58 | 38.1 | 60.01 |
| STERIS Plc | 21.42 | 2.63 | 6.42 | 21.39 |
| Peer Median | 19.56 | 1.99 | 7.34 | 26.99 |
| Best In Class | 4.57 | 3.49 | 38.1 | 74.27 |
Looking for more metrics and analysis for STERIS Plc?
Company Profile
STERIS Plc manufactures surgical and other medical supplies. It focuses primarily on healthcare, medical devices, pharmaceuticals, and research. The company operates through the following segments: Healthcare Products, Healthcare Specialty Services, Life Sciences and Applied Sterilization Technologies. The Healthcare Products segment offers infection prevention and procedural solutions for healthcare providers worldwide, including capital equipment and related maintenance and installation services, as well as consumables. The Healthcare Specialty Services segment provides a range of specialty services for healthcare providers including hospital sterilization services, instrument and scope repairs, and linen management. The Life Sciences segment offers capital equipment and consumable products, and equipment maintenance and specialty services for pharmaceutical manufacturers and research facilities. The Applied Sterilization Technologies segment offers a contract sterilization and laboratory services for medical device and pharmaceutical Customers and others. STERIS was founded on October 9, 2014 and is headquartered in Leicester, United Kingdom.
Disclaimer
The information presented in this report has been obtained from sources deemed to be reliable, but AnalytixInsight does not make any representation about the accuracy, completeness, or timeliness of this information. This report was produced by AnalytixInsight for informational purposes only and nothing contained herein should be construed as an offer to buy or sell or as a solicitation of an offer to buy or sell any security or derivative instrument. This report is current only as of the date that it was published and the opinions, estimates, ratings and other information may change without notice or publication. Past performance is no guarantee of future results. Prior to making an investment or other financial decision, please consult with your financial, legal and tax advisors. AnalytixInsight shall not be liable for any party's use of this report. AnalytixInsight is not a broker-dealer and does not buy, sell, maintain a position, or make a market in any security referred to herein. One of the principal tenets for us at AnalytixInsight is that the best person to handle your finances is you. By your use of our services or by reading any our reports, you're agreeing that you bear responsibility for your own investment research and investment decisions. You also agree that AnalytixInsight, its directors, its employees, and its agents will not be liable for any investment decision made or action taken by you and others based on news, information, opinion, or any other material generated by us and/or published through our services. For a complete copy of our disclaimer, please visit our website www.analytixinsight.com.